Night In Nigeria
JWC member Jason Cole navigates the slums of Lagos, Nigeria to experience the world's greatest Afrobeat party.
You need Flash player 8+ and JavaScript enabled to view this video.
I'm not super into Afrobeat but there's one Afrobeat artist that really gets to me. Click the video for a performance by Femi Anikulapo-Kuti. Seriously, watch it now. Then read below when you get back.
See what I mean? His music's got so much soul, it hurts. In a good way.
Femi's web site says that his band plays every Saturday night at a club on the outskirts of Lagos Nigeria called The Africa Shrine. When I saw that, I immediately started saving for the trip.
When I told my mother my plan she Googled Nigeria and found a ton of advisories to "avoid non-essential travel." She didn't think my trip was essential. I did.
I already knew about the dangers. I didn't know how to get from the airport to the club. Fortunately, I had the name of a friend of a friend who lives in Lagos (he's my good friend now). When I contacted him and told him what I wanted to do he got excited. Quammie had lived in Lagos all his life but had never been to the Africa Shrine or seen Femi play live. He said if I made it to Lagos we could go together.
Long story short, an hour after I landed, Quammie and I were in the one taxi we could find that was willing to take us to the edge of town. The slums we passed through aren't the worst I've seen, but they're the biggest.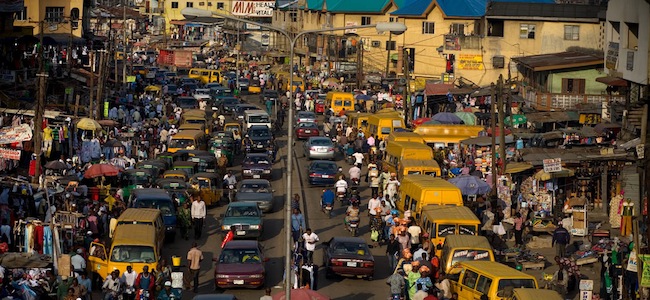 One thing that surprised me… Most people don't have electricity. As the sun goes down, people pull out lanterns and pretty soon every street stall is lit up with flickering glow.
When we got to the club the warm up act was already rocking. We didn't need tickets. I guess the place makes its money on booze. A guy on the door told us we had to stay all night. He said that anyone who travels after dark is likely to get robbed or worse. Everyone who goes to the Africa Shrine parties till the sun comes up.
When Quammie and I got inside the club was jammed. From the back, we could just see the stage. And then this pretty girl beside me took me by the hand and led us through the crowd. Because we were visitors she thought we should have a better view.
Then a new band took the stage. A tall man came on with a saxophone. It was Femi. When he started to blow, I didn't recognize the tune. It isn't on any of his albums. I felt like it was new to the crowd too. Maybe it was the first time he'd ever played it live. It wasn't until he really got into it that I realized… this was exactly what I was hoping for.
Femi's band and the warm up band played back to back sets. I lost count of how many. I danced with the girl who talked to us. I tired out long before she did. I looked for some place to sit down and the next thing I remember is Quammie shaking me awake. The music had stopped. The place was empty. We staggered out into the dawn.
Definitely worth it. And as far as I'm concerned… definitely essential travel.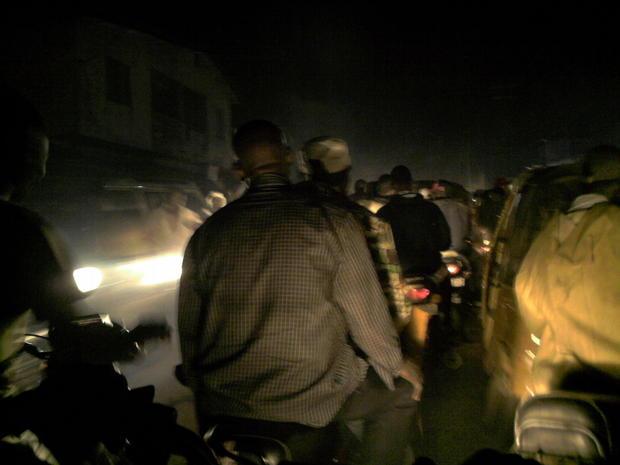 Wanna go to the Africa Shrine? Here are some tips from Wild Culture:
1. Don't go unless (like Jason) you are with a local who really knows Lagos. If you don't have any friends in Lagos, make some first. And be sure you can trust them. (Don't mean to be a buzzkill but… better safe than sorry.)
2. At the Africa Shrine, Saturday night is the night. But occasionally the club is dark. So make sure that bands will be playing before heading out.
3. Take a taxi or hire a driver to get there. Transit in Lagos is spotty at best, and definitely do not rent a car and drive yourself. Wherever you park, the car won't be there when you get back.
4. The streets are not safe at night. Don't to a party unless you're sure it's an all-nighter.
5. Once you're in the club… you're going to have a great time. But normal clubbing rules apply. If you get drunk and obnoxious a bouncer will kick you out into the street where you really don't want to be at night. So don't make an ass of yourself. That's a good survival tip anywhere.

JASON COLE (JWC Member Indomitable Class) is a cabinetmaker with a Ph.D is ethnography who lives in Paris, the great city of World Music. Jason spends several months a year traveling the world in search of great World Music bands and musical venues.
JWC ALERT<< This article could use some more photos and/or video of performances, musicians, fans at the Africa Shrine in Lagos Nigeria. If you feel like sharing… <link>Upload Here</link>.