PEOPLE
BEHIND
THE
SCENES
OF
WILD
CULTURE
Whitney Smith
Founder and publisher/editor Whitney Smith is a multi-disciplinary artist and journalist with an extensive career blending advocacy and the arts through the platforms of music, publishing, theatre, performance art and new media. His advocacy work has been in social justice, municipal and environmental politics, bioregionalism, community economic development and popular education.
Smith founded the Society for the Preservation of Wild Culture and co-founded Shadowland Theatre, EarLick, and Suitcase Theatre. In his teens he migrated from modelling, film making and acting on television to radio broadcasting and print journalism. As a composer and musician he is most passionate about two genres: musical theatre and neo-classical big band jazz and swing. The 17-piece Whitney Smith Big Steam Band produced two albums. Swing's Mistress and Life Drawing, the latter featuring his original compositions. Between jaunts road-hopping and photographing for jWC, Smith can occasionally be heard strumming his beloved German archtop behind a soulful warbler's rendering from the American songbook.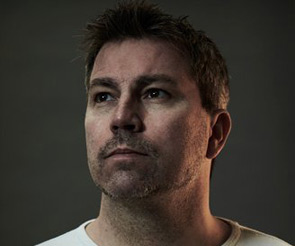 Joseph Hedges
Creative Director Joseph Hedges is the founder and global creative director of Garden branding agency. Working in the design and branding field for over 20 years, he has contributed to some of the largest organisations in the world, at both a creative and an advisory level. His experience ranges across brand strategy and creation through to implementation across all channels, and within all sectors.
Joseph is also a judge on the International Student Design Awards for The Chartered Society of Designers, lectures at events and exhibitions, has been on the expert branding panel for the Guardian and is actively involved in organisations such as the British Design and Art Direction Foundation (D&AD).
Aside from a love of guitar, interesting food, long country walks, especially in wet spring weather with Kevin, his bearded French Bassit, Joseph rides an electric bike every day from the train station to his home.
Herbert Wright
I'm a London-based writer, but haven't always been. After graduating in Physics and Astrophysics from the University of London, I moved into publishing computer games. When consoles took the market over, I gave it all up and spent a decade DJing and promoting psychedelic and indie clubs in Soho and Camden Town, seeing Britpop come and fade. Suddenly commissioned to write about mobile 3G networks, I became a communications technology journalist.
I spent two years writing my first book London High (2006), about London's past and future skyscrapers, and ever since I have written for UK architecture magazine Blueprint (I am now contributing editor), and others. For legendary e-bulletin le cool I covered the Shoreditch art scene when it was edgy, until 2011. I curated the first edition of the popular Lisbon Open House in 2012, an annual weekend in which buildings of architectural interest are opened to the public. As well as writing, nowadays I give talks and tours, chair panels and am working on ideas about the future of humanity.
Chellis Glendinning
Chellis Glendinning is JWC's Editor-on-the-Lam. She is an author, essayist, poet, political activist, and psychologist whose specialty for 25 years was recovery from PTSD. She has written seven books. Off the Map: An Exploration Deep into Empire and the Global Economy and Chiva: A Village Takes on the Global Heroin Trade both won the (U.S.) National Federation of Press Women award in nonfiction. She is working on a memoir of a generation, The History Makers, and finishing a bilingual novel to be published in Bolivia. Glendinning lives in an antique house in Chuquisaca, Bolivia.