Finders Keepers: The Life of Things
Our expert on collections weighs in on a remarkable exhibition in Rotterdam that reveals collectors' stories and the storied life of objects.

Parking lot for segregated objects, Het Nieuwe Instituut, Rotterdam. Note wire forest with last vestiges of late autumn foliage (left). 
Finders Keepers
An exhibition at the Het Nieuwe Instituut
Museumpark 25, 3015 CB
Rotterdam, Netherlands
Until 11 February 2018
Collections tell the stories of our needs and our strangeness. I have a weakness for archives and collections – I like their implicit act of storytelling, the conscious material architecture used to encapsulate a moment, an interest, an individual. We weave biographies through collecting. I use the notion of weaving consciously, as the act of collecting, and also visiting collections, is one of forming connections – establishing dynamics and placing ourselves in the midst of these. Objects and the things we are drawn to have a peculiar way of telling us more about ourselves than the material thing itself.
For someone who has spent half a decade exploring the immaterial, I have a surprisingly great love for material and matter. To echo my friend Hannah, "I love stuff!". However, as I get older, and between switching countries a handful of times, I have also become more selective with the objects I own, much like the company I keep. Inadvertently, I try to echo William Morris, "Have nothing in your houses that you do not know to be useful or believe to be beautiful." Granted, my house is a shared Glasgow tenement flat – a place of love, but nothing fancy. Still, it is a useful exercise to consider the life you are curating. Another friend, Rosona, who has also been going through a move of her own, introduced me to the great German phrase: "ist es Kunst oder müss es weg?" – "is it art, or must we get rid of it?". Dogmatic perhaps. Though I also rather dramatically told my flatmate that ugly things are not functional. This was in reference to the notion that one does not need to own makeshift mugs.
There is something compulsive about our very human need to serialize and create ordered structure. 
Finders Keepers, an exhibition curated by the editors of MacGuffin magazine for Het Nieuwe Instituut in Rotterdam, the Netherlands, brings home this theme of how we find our humanity in the things we collect. A display of over 5000 household objects from over 40 worldwide collections, ranging in size, and niche scope: razors, ropes, and a set of 30 staircases among others. The latter in particular holds my interest. My mother has a vintage ladder collection.
There is something compulsive about our very human need to serialize and create ordered structure. Looking at the rows and rows of plastic bottles sorted by color is oddly pleasing. And somehow through finding similarities across the sorted sea of plastic, we notice the individual standout characteristics. We find uniformity alongside individuality.
Placing ourselves alongside these hallmarks of human hands and making we find ourselves peering at a story of stuff, which is inevitably also a story of use and of need. It connects us, while also making us small. The museum visitor becomes a diminutive observer in a larger practice of what it is to consume, and perhaps ultimately, what it is to be human.
Observing change, the wear and tear on display, as well as disuse is an inevitable form of communing with the life of things and the ebb and flow of the past. It is its own kind of cheap time travel. Collections canonize themselves and inevitably also their users.
Red pencils, white pencils, license plates, jackets for . . .?
The collections displayed at the exhibition belong to artists and designers, including Seth Siegelaub, herman de vries, Peter Marigold, Louise Harpman and Jason Denham. Some of the collectors and their collections are filmed in a series of video portraits, to give us a sense of the life of the collection and the collector – their collaboration, if you will. The exhibition has been put together with the notion that collecting is its own kind of design in practice. The process of inclusion and exclusion is without a doubt a form of creative practice.
Finders Keepers will be open until 11 February 2018. It's a design pilgrimage worth making — if not to learn about the object themselves, to see what you might uncover about the cloth you are weaving.
[Also at the Het Nieuwe Instituut, to January 7, is the exhibition, The Other Architect, organised by the Canadian Centre for Architecture (CCA). It explores the practice of various architects since the 1960s who have embraced a broader definition of their roles as designers. More info.]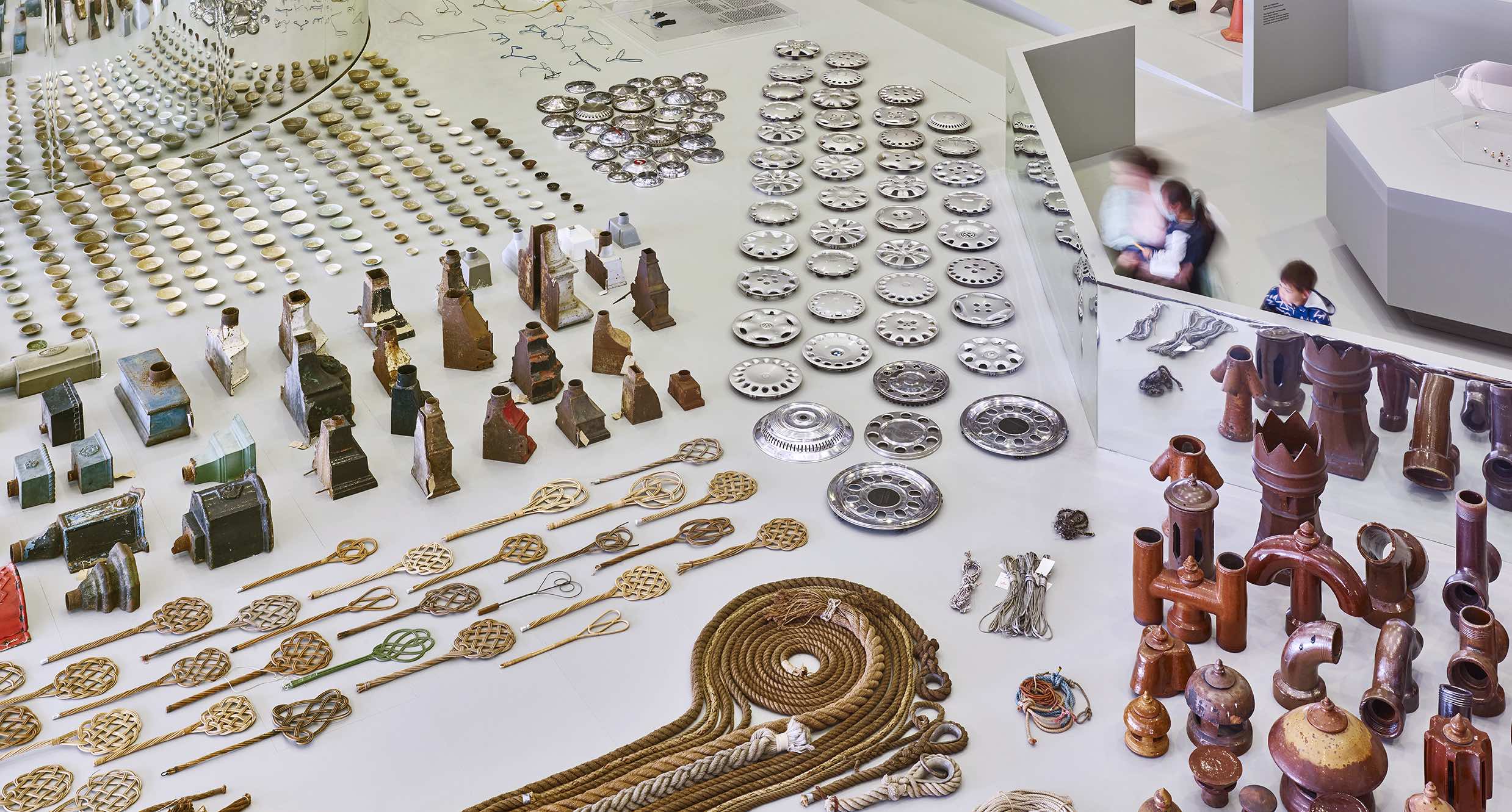 SOPHIE C. KROMHOLZ is an art historian who specialises in ephemeral art practices; in essence, if it decays, wilts, melts, is set on fire or eaten by the audience, you have her attention. 'Has critical ideas, will travel.' She currently finds herself working in the same line of work as Franz Kafka and Charles Ives: insurance. Born in New York, Sophie grew up in the Netherlands and now lives "once again in the city of my heart, Glasgow".
Photographs by Mathijs Labadie, courtesy of the Het Nieuwe Instituut.