Standfirst
Sex and celebrity. Power and desire. The pendulum over one man's wild culture swings a bit too far — and hurts more than a few.
Body

Jian Ghomeshi interviewing Neil Young for Q. Access to the best and brightest. 1
TORONTO — For me the first sign of trouble with Jian Ghomeshi came a few weeks back with a Facebook post to the world about his grief over his father's death. In keeping with Ghomeshi's unique stature in Canadian culture, the piece was then published by The Globe and Mail, a nationally distributed Canadian newspaper based in Toronto. While it was a moving tribute, it struck me as an overtly public display of something best shared with family and close friends. "Something's wrong here," I thought. "This sounds like a cry for help."
I cannot pretend to understand the relationship between that loss and the extraordinarily complex and sad situation that has erupted this week over Ghomeshi's sexual behaviour. Nor can I pass judgement on his or anyone else's choice of consensual sexual behaviour. But yes, there is an ongoing sex scandal in Canada. For readers outside these borders, here it is in a nutshell.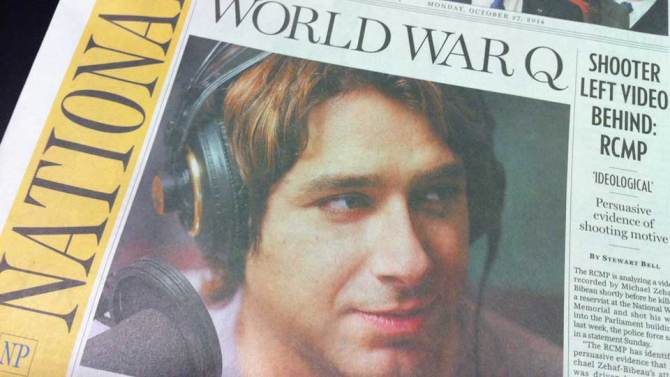 "A story that erupted in Canada with all the prominence of last week's deadly attack on Parliament by a crazed gunman." 1 
Ghomeshi, a leading English Canadian broadcaster and cultural spokesperson, was fired by the Canadian Broadcasting Corporation (CBC) on Sunday, October 26, from his prominent position as the founding host of a daily cultural affairs radio program known as Q. This move came on the cusp of publication of a story by a leading and reputable newspaper, The Toronto Star (aka, The Star), revealing Ghomeshi's penchant for rough sex. It was accompanied by explosive anonymous accusations of non-consensual aggressive treatment by Ghomeshi from three women.
As the story broke Sunday, Ghomeshi again turned to Facebook in a 1,600 word account of his sexuality and a firm denial that he had ever engaged in non-consensual acts. Simply put, it was a flamboyantly public way to deal with something he simultaneously claimed to be a private matter, and Canadian media bore witness to the collective jaw dropping of the nation's spin specialists in reaction to the gambit. Ghomeshi recently engaged Navigator, a high profile crisis management firm hired by Brian Mulroney during the Airbus affair, and filed a law suit against the CBC for $55 million in his further defence.
Noted feminists defended him while they denounced the public broadcaster's apparent Puritanism.      
The Facebook post seems to have spurred on The Star — and some of Ghomeshi's colleagues at the CBC who have since published further accounts claiming to have been abused. In recent days more accusations have come forth, with accounts from a total of 8 women — including two who were named, an actress and an author — receiving surprising and unwelcome brutal sexual advances from Ghomeshi. [See 'Rough Sex Allegations' on this site. Ed.] Bloggers who were participants in the BDSM world (bondage domination sadism masochism) wondered why Ghomeshi's rough sex partners were not coming forth in his defence. At least one anonymous source was interviewed at length and claimed that she had enjoyed her BDSM experience with Ghomeshi, and, that he was a conscientious partner who respected and played by the rules of the game.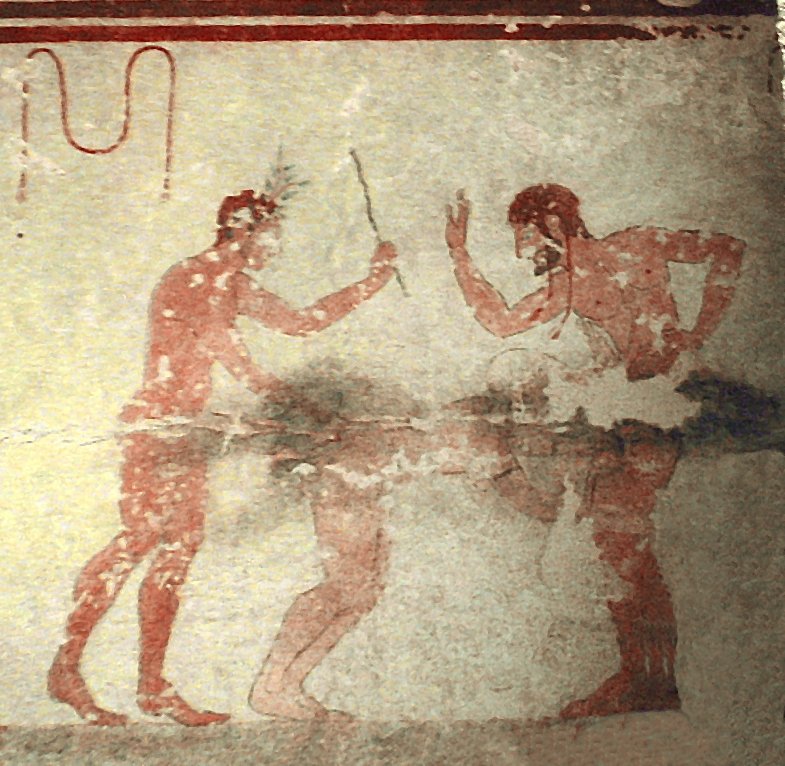 Wall painting in the Tomba Della Fustigatione (Flogging grave) in the necropolis of Tarquinia in Lazio, Italy.3
It is not my purpose to engage in 'she said, he said.' The skeletal account above is a story that has erupted in Canada with all the prominence of last week's deadly attack on Parliament by a crazed gunman. The Ghomeshi scandal has occupied media, CBC audiences and even Canadian politicians all week. My purpose here is to attempt to contextualize the response.
To begin, the CBC is an institution in crisis. The Ghomeshi imbroglio arises at the worst possible time for a public broadcaster that feels it is under siege from an unfriendly conservative government, has lost significant revenue from the loss of broadcast rights to professional hockey, and has had to let many employees go. However, the real crisis is one of quality. The CBC's TV programming pales in comparison to the quality of the best the BBC or PBS in the US provides. It is a sad but accepted fact that the English side of television programming greatly suffers in comparison to its French language counterpart, Société Radio Canada, which enjoys large audiences in Québec, for a few reasons: it reflects the relatively cohesive culture of French-Canada, it possesses a strong sense of self-awareness and pride and doesn't take itself too seriously, and, because SRC seems to have better programmers — particularly on the television side — with a clearer sense of what public broadcasting can be. 
The hell for the CBC is that Ghomeshi was its horse in the race.      
Starting in 2002, the CBC began to develop Ghomeshi, who first came to prominence as part of a folk-pop band, Moxy Früvous, which his employers apparently thought had cachet among young 21st century listeners. Q, the program he cofounded and hosted, is produced by capable broadcasters interested in ideas and entertainment and who had the skill and courage to occasionally follow some relevant current affairs stories. Ghomeshi worked hard and became, in essence, the hip 'youthful' emissary of a network that was itself working hard to revitalize. The hell for the CBC is that Ghomeshi was its horse in the race, and, even though he was 47 years old when fired, and 40 years old when he helped create and launch Q — "the highest rated show in its slot in CBC history, surpassing even the revered Peter Gzowski." * Ghomeshi offered, at least in the CBC's view, its window on youth. He embodied the hope it desperately needed.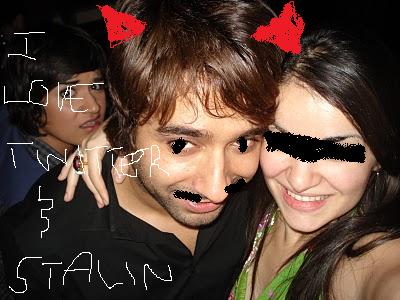 As object of youthful attention. Sample: in 2010, 'Poon Girl' (whose slogan on her blog reads, "Hating you makes me feel all warm inside") blogged: THINGS TO BLAME JIAN FOR:  World war 2, Auto industry collapse, Why I can't find a better job, Global Warming, The rise of Stalin.2
For many Canadians, particularly those who are liberal, the emotional attachment to the CBC and the idea of public broadcasting remains strong. And, for those who support public broadcasting, radio has been the last redoubt of intelligence. It's a situation not unlike what devoted BBC and National Public Radio listeners feel. So, at the beginning of the Ghomeshi saga it's not surprising that there was such a visceral attachment, and in some cases, a hysterical response. Not only had he been chosen as the handsome and vital figurehead of a threatened national institution, he is, in the practice of his craft, a talented and committed broadcaster. How dare the CBC management cut him loose! The Facebook and Twitter spheres lit up with those rallying to his cause. Even noted feminists defended him while they denounced the public broadcaster's apparent Puritanism.
And then things changed.
More information came to the surface. In a particularly embarrassing momet, Green Party leader Elizabeth May had to retract her initial defence of Ghomeshi after she read The Star coverage.
In Canada "a person cannot consent to an assault that causes them bodily harm."       
On the delicate matter of consent, the imbroglio raises more questions than it answers. As University of Toronto law professor Brenda Cossman points out, Canadian law is complex on the surrounding issues. People who enter into rough sex may risk their safety. Does a person have the right to engage in sexual activities that include potentially harmful violence? Cossman informs us that in Canada "a person cannot consent to an assault that causes them bodily harm." Is the Canadian government prurient, or legitimately looking out for its citizens? Certainly this is outside the mandate of the Broadcasting Act, but the CBC surely investigated its legal footing and responsibilities as well or better than its critics.
Ghomeshi's understanding of the law is less certain. In his Facebook post, he announced his intention to sue the CBC. Apparently his lawyers have done just that. Virtually every lawyer in Canada that's spoken on the subject says that litigation is going nowhere. Ghomeshi belongs to a union with a collective agreement with CBC. Perhaps his lawyers know something no one else seems to, but in Canada the situation of unionized employees appears to be clear: labour arbitration boards preclude litigation. The law suit seems then to be nothing more than a public relations strategy, an attempt to attract public sympathy. Such sympathy will be very hard to come by, given the sudden increase in the number of women who are coming forth with similar sorts of accusations.
Risk and loss: A website displaying just a few of the accomplishments of a fierce talent with so much ahead of him. "I have anxiety," he said. "Touching helps." 3 
As a broadcaster, Jian Ghomeshi might have merited the accolades that the success of Q earned him. He consequently became one of the CBC's leading representatives. CBC made Jian Ghomeshi "the brand." He is a public figure who represented a national cultural organisation funded by Canadian citizens. According to The Toronto Star and the accounts of some of the women involved with him, Ghomeshi traded on his CBC garnered acclaim to 'hook up,' sometimes contacting younger women on Facebook, by text or on Twitter after meeting them at public events. This behaviour might be expected of a rock star, but, for an extremely visible agent of a public broadcaster serving a general audience, it's highly inappropriate.
It's been a grim week for everyone. Yesterday Ghomeshi was dropped by Navigator, and a public relations and publicity company who he'd worked with for two years; according to sources knowledgeable of the Navigator situation, "He lied to the firm." Today two women came forward to file complaints with the Toronto police about previous incidents with him. As for the CBC, the institution that insiders alternatively refer to as 'The Mother Corporation,' or, more sardonically, 'The Corpse,' it's not hard to guess which descriptor might have more currency today. Though I'm an unlikely candidate to defend English language CBC — which I think has significantly betrayed the fundamentals of public broadcasting — I find myself siding with its actions. And so, in a sense, there is an emotional resolution of a sort — the corporation made the right call — to a messy affair that has served no one.
* Zekas, Rita. (May 1, 2010). "Minding His Peace & Q's." Toronto Star.

JAMES CULLINGHAM is a journalism professor at Seneca College in Toronto, and a documentary film maker. His most recent film is In Search of Blind Joe Death: The Saga of John Fahey. For several years James worked as an executive producer and producer at CBC Radio and CBC TV.