Living with Buildings: The Example of Finland's Paimio
Standfirst
A new exhibition in London explores the pivotal role of architecture and urban planning in human health — and how the structures that surround us shape our mental and physical well-being, in positive and negative ways. A description of the exhibition follows Contributing Editor Herbert Wright's essay on one of the key buildings in the exhibition, a sanatorium in Finland.
Body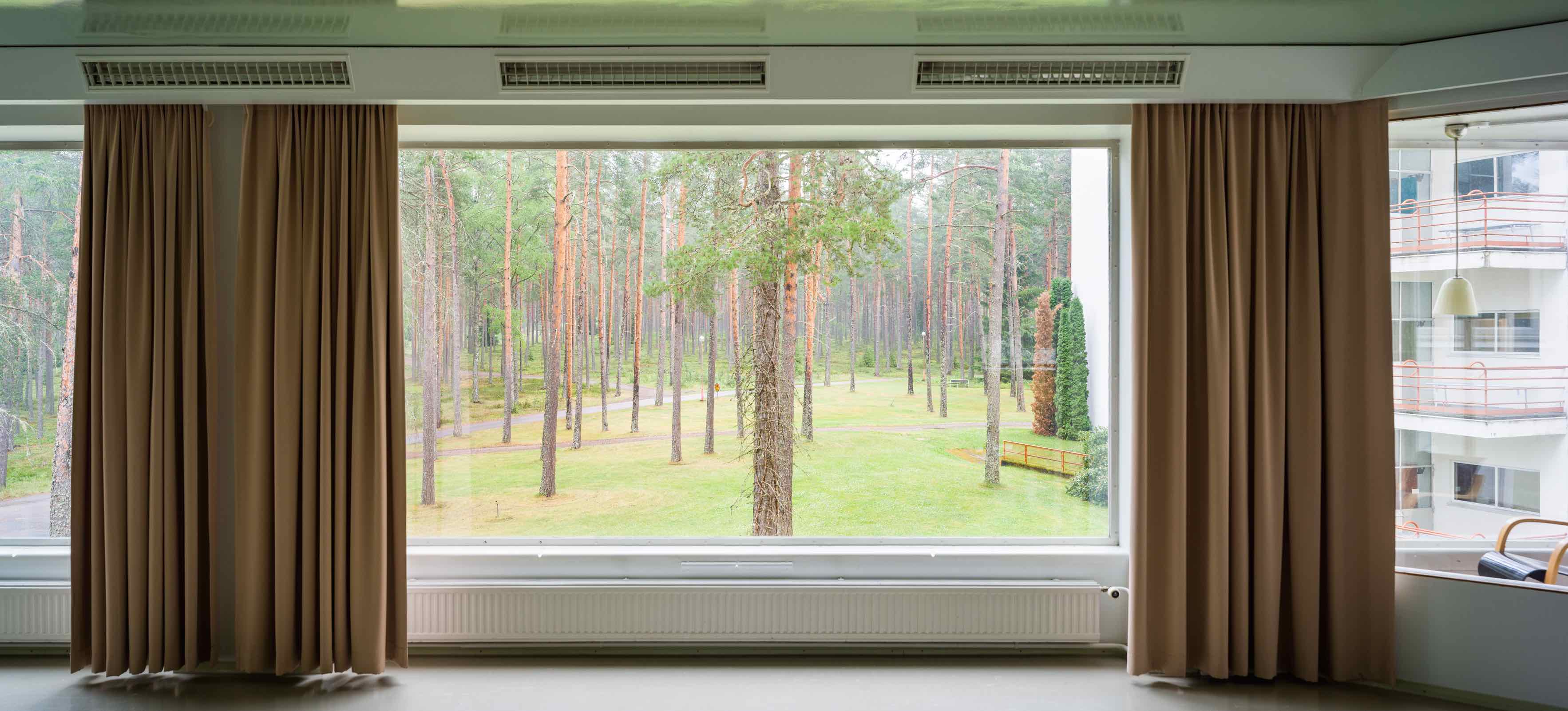 Paimio stands in a pine forest.
With a violence as sharp as a blow to the chest, it could seem that you were expelling a living creature from within you. Hacked out of your lungs, the splatter of green phlegm you coughed up would be warm and sometimes laced with blood, as if it had its own veins. This was the everyday experience for those with tuberculosis, or TB for short, commonly known as consumption. The disease has stalked humanity since at least the ancient Egyptians and remains active especially in the developing world. There is hope in a new vaccine, called M72/AS0, announced earlier in 2018, but TB is still the world's leading fatal infectious disease.
In Europe, TB remained a major cause of death for half the twentieth century, and nations built facilities called sanatoria to slow the dying of TB sufferers — and isolate them and their coughs and sneezes, to stop the spread of the bacteria. Perhaps the most beautiful sanatorium floats in a sea of pine trees near the city of Turku in Finland. It was designed by the country's greatest modernist architect, Alvar Aalto, with his first wife Aino, and it opened in 1933. It is called Paimio.
The regime was fresh air, good food and hygiene, and involved two hours of silence daily. 
It's been over fifty years since Paimio has been a dedicated TB sanatorium. Thanks to vaccinations and antibiotics, Finland's death rates from the disease plunged in the 1950s. Paimio became a general hospital in 1965 and is now only partially used for young people's rehab. Since summer 2018, it has been up for sale by the local health authority. That's been controversial, because a new owner could mess with what is an icon of modernism, and what's inside it. Alvar Aalto's architectural project were complete environments, right down to furniture and fittings. Aino's role was crucial, collaborating on the interiors and furniture at Paimio and elsewhere — later, she would become the head the Aalto's furniture company, Artek. The sanatorium is the origin of the Paimio Chair of steam-bent wood, designed to make breathing easier when sitting back. It has become a design classic (originals can go for €70k/$80k nowadays), but is credited to just Alvar.
But at Paimio, there is an additional dimension. The Aaltos considered everything from the patient's point of view, and their needs were at the heart of all design.
The Artek-designed Paimio chair.
In 1933, modernism was fresh — a new functionalist, rational architecture that dispensed with embellishment and references to the past. But even approaching Paimio, it's clear that there is more to it than another stripped-back, well proportioned modernist block. First, it is a seven-storey structure, an immense thing to find in peaceful forest. It has long wings at different angles, and a high chimney for the boiler system which was feb by timber and coal. The smoke from it seems like the last thing a TB sufferer would need, but the chimney was placed on the north side, so the prevailing south-west wind would carry it away.
Approaching the entrance, the mood is instantly lightened by brightly coloured sun-shading canopies on one side. Colour was a key tool in Alvar Aalto's mission to improve the patients' well-being, and for the interiors, he worked with artist Eino Kauria who created a colour palette to apply in Paimio. Mostly, it has been painted over since then, but we can still see it in places, such as the yellow of the main stairs and parts of the reception, tempering any clinical feeling. (Strangely, Aalto changed his mind about the yellow, but the flooring had already been ordered).
Sunlight pouring into the dining room.
The Aaltos designed features for patient comfort that are so subtle you may overlook them. For example, the stairs have shallow steps because TB patients would likely be short of breath. The dining room's double-glazing has a gap big enough for plants to be placed inside. There are door handles whose ends turn in grooves in the door so clothes would not get snagged. Other features were more obvious. Modernism was often about bringing light in, but Aalto went further in the Recreation Room, ordering wide 1.75m-high plate glass windows that seem to bring the forest itself inside. Paimio also had the first panoramic lifts in any Nordic country.
Paimio is big, with its own farm that made it self-sufficient right up to the 1980s. It was designed for 286 patients, but extra beds were installed increasing capacity to 322. The average stay was six months, the longest was eight years. The regime was fresh air, good food and hygiene, and involved two hours of silence daily. Unless the temperature fell below -20C, everyone spent long daily periods reclining on the long top-floor balcony terraces running the whole length of the building, just above the trees. Up there, the sense of tranquillity is breath-taking, and was breath-giving.
View from Paimio's terrace receives the abundance the pine forest.
Paimio's lasting legacy is the Aaltos' patient-centric design, considering their needs and welfare of 'horizontal people' in every detail. Given it significant contribution to the advancement the architecture of healthcare, Paimio is given a central position in the Wellcome Collection's Living with Buildings. But at the end of the day, the Altos couldn't halt the toll of tuberculosis. Some patients recovered there, but a third of them died. Their last days would have been in as much comfort and peace as possible anywhere. And much of that time would have been in the final area we look at — the wards.
These were not open but rows of rooms mainly for two patients to share. Under ceilings painted in restrained green, there is a functional, creative simplicity to everything from closets to lamps. Two sinks especially designed to minimise splashing sounds that may disturb the other occupant are mounted on a wall. Between them is a third feature, an extraordinary self-washing wall spitoon, to catch and wash away those terrible phlegms that could erupt so rudely, and interrupt the peace of Paimio. ō
VISITS TO PAIMIO in Finland can be arranged through Magni Mundi.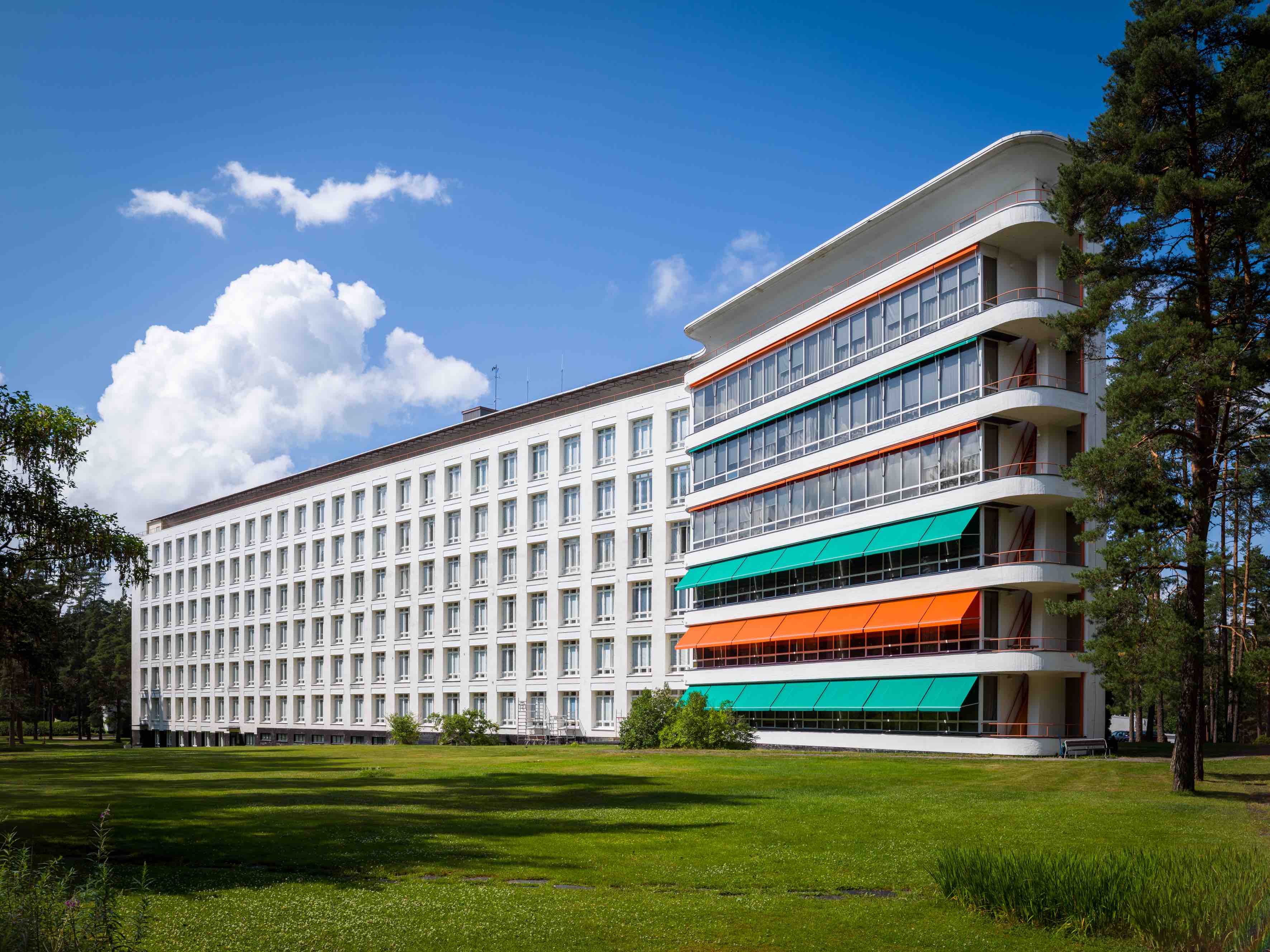 On LIVING WITH BUILDINGS
An exhibition at The Wellcome Collection, London.
Until March 3, 2019.
In a world where people increasingly live in metropolitan areas and spend more time than ever indoors, Living with Buildings opens with the impact of urbanisation on sanitation in Victorian London. Dickens' introduction to Oliver Twist (1850) highlights the living conditions of the poor, and the connections between housing, health and inequality. Camille Pissarro's painting of 'Bedford Park in Chiswick' (1897) illustrates the creation of suburbs for the wealthy while the Garden City Movement offered an escape from London's crowded and inhospitable streets. Maps and plans of ideal towns, such as Bournville in Birmingham and Saltaire near Bradford, reveal the motives of the philanthropic factory owners who built them for their workers.
The exhibition, curated by Emily Sargent, also explores the rise and decline of tower blocks, showing early intentions to build a modern and healthy way of living in post-war Britain. Works by Rachel Whiteread and Shona Illingworth examine the impact that later disrepair and demolition has on communities. Erno Goldfinger's designs for Balfron Tower (1965) and notebooks from his time living there are shown with a 2014 film by artist Rab Harling responding to plans to develop the building for private use. A series of Tony Ray-Jones photographs of the high-rise Pepys estate in Deptford (1970), and Gursky's Paris, Montparnasse (1993) are displayed alongside a film by artist Martha Rosler, asking 'How do we know what home looks like?' (1993). Material relating to the recent tragic fire at Grenfell Tower in London is an urgent reminder of the need to provide secure, safe housing for all. 

A scale model of a 1930s hospital demonstrates the design principles that have continued to inspire modern hospitals and other therapeutic spaces, in contrast to earlier smallpox tents and small cottage infirmaries. Amongst the many offerings in the exhibition are archive photographs and footage of experimental London health clinics, reflecting on attempts to improve the health and living conditions of the city's residents, with a focus on community and prevention. 
A new book by Iain Sinclair, inspired by the exhibition, is published by Wellcome Collection and Profile Books. In Living with Buildings Sinclair embarks on a series of journeys — through London, Mexico, Marseilles and the Outer Hebrides — to explore the conflicted relationships between sickness and structure. 

HERBERT WRIGHT is a London-based author and journalist specializing in architecture and art. He studied physics and astrophysics at the University of London. He is currently a contributing editor of Blueprint magazine, and contributor-at-large to Design Curial. www.herbertwright.co.uk
All photos by, and courtesy of, the Alvar Aalto Foundation.