Wild Culture Diary - October 2013
Standfirst
In the latest instalment of the series, we select our pick of the best events taking place across the world in the month ahead.
Body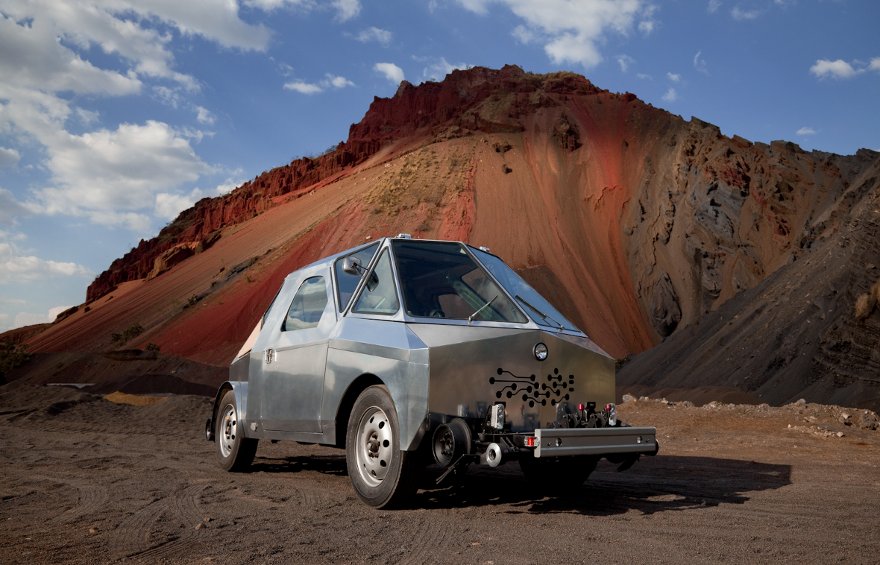 3rd - 5th October
Abandon Normal Devices
LIVERPOOL: The Foundation for Art and Creative Technology (FACT) hosts a three-day festival of art, film and digital culture under the tantalising title of Abandon Normal Devices. Now in its fifth year, the festival seeks to blur the boundaries between art, science and activism. This year, it all culminates in the AND Fair, featuring illusions, algorithms, and flying machines. Look out in particular for Jessie Darling exploring the performativity of online identity, and research vehicle SEFT-1, created by artists Los Ferronautas in collaboration with The Arts Catalyst. [pictured above]



4th October
Dean Rosenthal presents...
LOS ANGELES: American composer, artist and editor (and Wild Culture contributor!) Dean Rosenthal plays The Wulf with Morgan Gerstmar, Mark So, Aiden Reynolds, and Emily Hays in a concert devoted to his own music. This is Rosenthal's first concert at The Wulf, and his first time playing in Los Angeles for fifteen years. He is bringing field recordings, minimalist instrumental music, and graphic scores, and the evening includes a world première for 'piano four-hands' – a duet  for two players on a single piano.



From 11th October
Other Side
EASTBOURNE: Towner have commissioned Japanese contemporary artist Chiharu Shiota to produce a monumental new installation that sees a facade of five wooden doors caught in a dark tangle made up of thousands of metres of black yarn. This is Shiota's first solo show in a UK public gallery and the work has taken almost three years to develop. Two of the doors lead into a huge, dimly lit cocoon, which forms a kind of centrepiece for this strange, immersive experience. Other Side is supplemented by two talks – with the artist, and with exhibition curator, Sanna Moore.



11th -12th October
Winged Creatures
GLASGOW: Taking place at the University of Strathclyde, the latest meeting of the British Animal Studies Network sees two days of panel discussion and debate around the theme of 'winged creatures'. Run by Erica Fudge, the conference features academics, ornithologists and charity volunteers all coming together to discuss such topics as "Thinking (like a) Bird", "Flies, Gnats and the Rise of the Micoscope", and the relationship between poetry and the nineteenth century campaign to protect the seabirds of the northeast.



From 16th October
Edward Burtynsky
LONDON: One of the major names in contemporary landscape photography, Ed Burtynsky has a solo show this month at the Cork Street branch of Flowers Galleries. Since having his work published in the original Journal of Wild Culture (back in the 1980s when we were a print magazine in Toronto), Burtynsky has risen to global prominence for his sublime depictions of humanity's most damaging interactions with nature – oil spills, mines etc. This latest body of work is entitled Water, and features images from across the world produced between 2007 and 2013.



18th - 26th October
Frequency 13
LINCOLN: Frequency – the biennial festival of art and digital culture – is back for a second round, this time under the theme of 'Revolution', exploring how new developments in technology have altered the way we interact with the world around us on a daily basis. The festival features installation, performance, sculpture throughout Lincoln's medieval streets, by the likes of Blast Theory, Me and the Machine, and Tony Conrad & Tyler Hubby. Look out for Barret Hodgson's projected monoliths on the new University of Lincoln library.



20th October
Urban Mushroom Forage
TORONTO: Winners of the 2012 Ontario Tourism Award for Best Culinary Tourism Experience, the Culinary Adventure Company are hosting a very special outdoor adventure this October Taking place in Moccasin Park, Toronto is a four-hour Urban Mushroom Forage, in which participants can discover the basics of foraging, whilst exploring the Don Valley with an expert guide, in search of wild mushrooms and edible plants. The session includes a nice bit of exercise, a tasty gourmet lunch, and you even get to keep what you find on the walk!



26th October
Quince Day
WORCESTER: The finest half-timbered building in the beautiful city of Worcester, Greyfriars House dates as far back as 1480, with early 17th and 18th-century additions. This October, the former friary, now a National Trust property, is celebrating the quince with an afternoon dedicated to this most delicious, and decidedly Autumnal, of fruits. The event is completely free and includes recipes, tastings and fruits galore, as well as some intriguing history about the planting of the quince trees in Greyfriars Garden.



31st October
Night of the Uncanny
SUSSEX: This Halloween sees something a little bit special taking place at West Dean College, an arts and crafts school housed in the flint-built Gothic revival West Dean House. Anne Noble-Partridge and David Price's innovative London Drawing company present a unique combination of night-time life drawing and uncanny performance – combining light, sound and narrative in historic surroundings. Tickets include dinner in what is bound to be an unforgettable evening of darkness and creativity.