At the Crossroads: A New Mexican President Stands Tall for Hope
Standfirst
México's history as we know it covers a period of more than three millennia. Following the violent conquest by the Spanish in the early 1500s, a colonial period followed until independence was declared three hundred years later. Since then the Mexican mestizo citizen has endured long periods of tumult at the hands of the country's political leadership: cascades of insurgency, revolution and counter-revolution, corruption and dictatorship — as well as social and economic reform and a recent cultural blooming. Today, with increased violence caused by organized crime and a fractious relationship with the United States, there is welcome anticipation of what the country's new leadership vision of change. One of our roving correspondents, James Cullingham, was there on election day and gives his assessment of the new regime and its future.
Body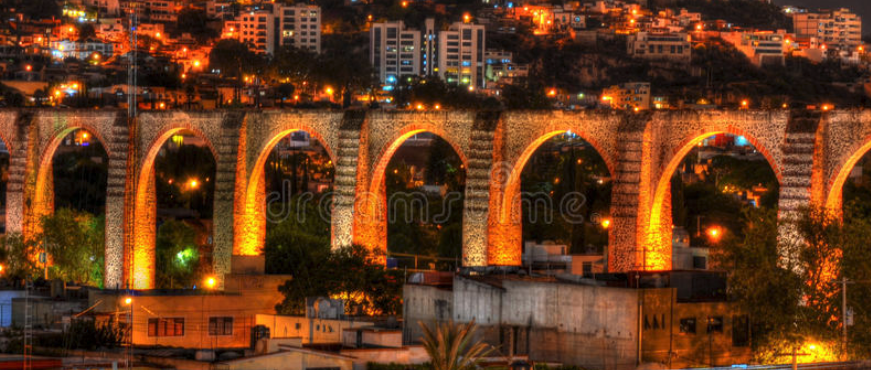 The city of Querétero and its aqueduct. Photo credit [o]
QUERÉTARO, MÉXICO — With a soccer ball and a few juggling pins, and sporting a Mexican World Cup jersey, the juggler performed at the red light of a busy intersection in front of cars lined up across three lanes. We were in Querétaro, a city about 250 kilometres north of Mexico's capital. The wide avenue is divided down the middle by an aqueduct, almost 2 kilometres long, dating from the 18th century. The idea for the aqueduct project was hatched by Capuchin nuns to alleviate disease in the city by bringing fresh water from a spring in the countryside.
The name on the back of the juggler's jersey, Ayotzinapa, is a provocative reminder for any Mexican. It is the town in the state of Guerrero where, in 2014, 43 student teachers were studying, later disappeared and are presumed to have been murdered. That event marked a low point in the sad trajectory of violence and human rights abuses that occurred during the rule of outgoing Mexican president Enrique Peña Nieto. Kidnapping and murderous assaults on civilians, journalists and public officials became all too common on Peña Nieto's watch.
The politicized juggler was strutting his stuff just three days after the triumph of Andrés Manuel López Obrador, usually referred to as AMLO, who won a landslide victory in the election of July 1. AMLO took 53% of the votes in an election in which he swamped candidates from two established parties. His political party, Morena, as well took control of Mexico's national legislature. AMLO's political triumph was as audacious — and his future and prospects for sustained success as risky — as the outlook for the juggler cum political performance artist on that avenue in Querétaro. Morena also goes by another name — Juntos Haremos Historia (Together we will make history).
Poor México — so far from God, so close to the United States.
Late in the evening of election day, López Obrador appeared before an enormous crowd gathered in the zócalo, the vast square in the centre of Mexico City bordered by Aztec ruins, the Presidential palace, the city's cathedral and office buildings. His speech was succinct and deliberate. While he struck a conciliatory tone, he clearly distinguished himself from neo-liberal trends that have prevailed in Mexico for half a century. In a slow cadence and with careful enunciation, AMLO claimed that his victory meant the work of the Mexican Revolution (c. 1910-1920) would now continue. He specifically dedicated himself to improving prospects for Mexican youth, the poor and Indigenous peoples.
The result that night signified the triumph of 12 years of campaigning. As the loser of a bitterly contested, razor-thin outcome in 2006, and soundly defeated in the presidential race of 2012, AMLO and his supporters re-grouped following the 2012 election of Peña Nieto, despite the scepticism of the media and rejection by members of the political establishment, including some in the party he led twice to defeat. Official México was ready to issue AMLO's political obituary. However, as the administration of Peña Nieto became mired in corruption charges, tarnished by escalating violence and insecurity, and finally his incapacity to deal effectively with the rise of Donald Trump, AMLO re-emerged.
As the head of a new party and leader of a broad coalition that welcomed both democratic socialists and social conservatives, AMLO stood for a dedication to profound change in Mexico. Their common cause was a revulsion over corruption of the established parties and trepidation about the growing violence spawned by the failure of several governments to limit the growing power of organized crime. This power was conducted by sophisticated and vicious cartels that once focused on narcotics trafficking, but which have added extortion, kidnapping, human trafficking and large scale fossil fuel theft to their repertoire.

The triumphal candidate was backed up by a strong coalition.
The name of the political party, Morena, comes from the more formal name for AMLO's movement, Movimiento Regeneración Nacional. Morena can be translated literally as "brunette", a brown- or dark-haired woman. It is a clever nod to the darker skinned Mestizo support the movement hoped to earn — but also perhaps to López Obrador's origins in Tabasco, a southern state famous for its swelteringly heat. The unlikely venture worked. AMLO, himself a product of established parties, proved to be an adept political juggler in forming a new political union that left his former parties in the dust. As Elena Poniatowska, la grande dame of Mexican journalism, reported in a national daily, La Jornada, AMLO campaigned masterfully. In an interview conducted by Poniatowska, political scientist Eduardo Guerrero Gutiérrez stated, "Andrés has been converting himself into a political pragmatist. He learned a lot from mistakes in past campaigns, because in this one he didn't commit a single error."
It would be very difficult to underestimate the scale of the challenge AMLO and his followers confront. In a press briefing days after his victory, AMLO's security adviser stated bluntly that 40% of the national territory is in a state of insecurity imperilled by criminals. Figures over the past two years show that the toll of violent deaths in México has surpassed the bloody period that followed the ill-advised and badly delivered plan of then Mexican president, Felipe Calderón, in 2006 to send the military after the cartels. According to a Human Rights Watch estimate, 60,000 Mexicans died after Calderón unwittingly and incompetently unleashed a multiparty battle between rival cartels, the army and police forces. Under Peña Nieto, matters improved a little and then deteriorated in a devastating manner. This week Mark Stevenson of the Associated Press reported that according to Interior Department figures there was a 16 per cent increase in the murder rate in the first half of 2018, as the country again broke its own records for violence. The Interior Department said there were 15,973 homicides in the first six months of the year, compared to 13,751 killings in the same period of 2017.
Journalism has paid a brutal price. As Noé Zavaleta recently reported in the magazine Proceso, 23 journalists have been murdered in the state of Veracruz alone over the past 8 years. These include Zavaleta's friends and colleagues print journalist Regina Martínez and photojournalist Rubén Espinosa. Zavaleta is author of El Infierno de Javier Duarte, an investigation of the infamous former Veracruz governor who was arrested in Guatemala following his tenure and extradited to México last year to face corruption charges. Journalism was an especially dangerous occupation in the state of Veracruz during Duarte's rule. AMLO's coattails meant that a Morena governor was elected there on July 1, but there's no quick fix to this crisis which erodes the core of Mexican democracy as more and more agencies and journalists fear to cover the interweave of cartel activity and political corruption.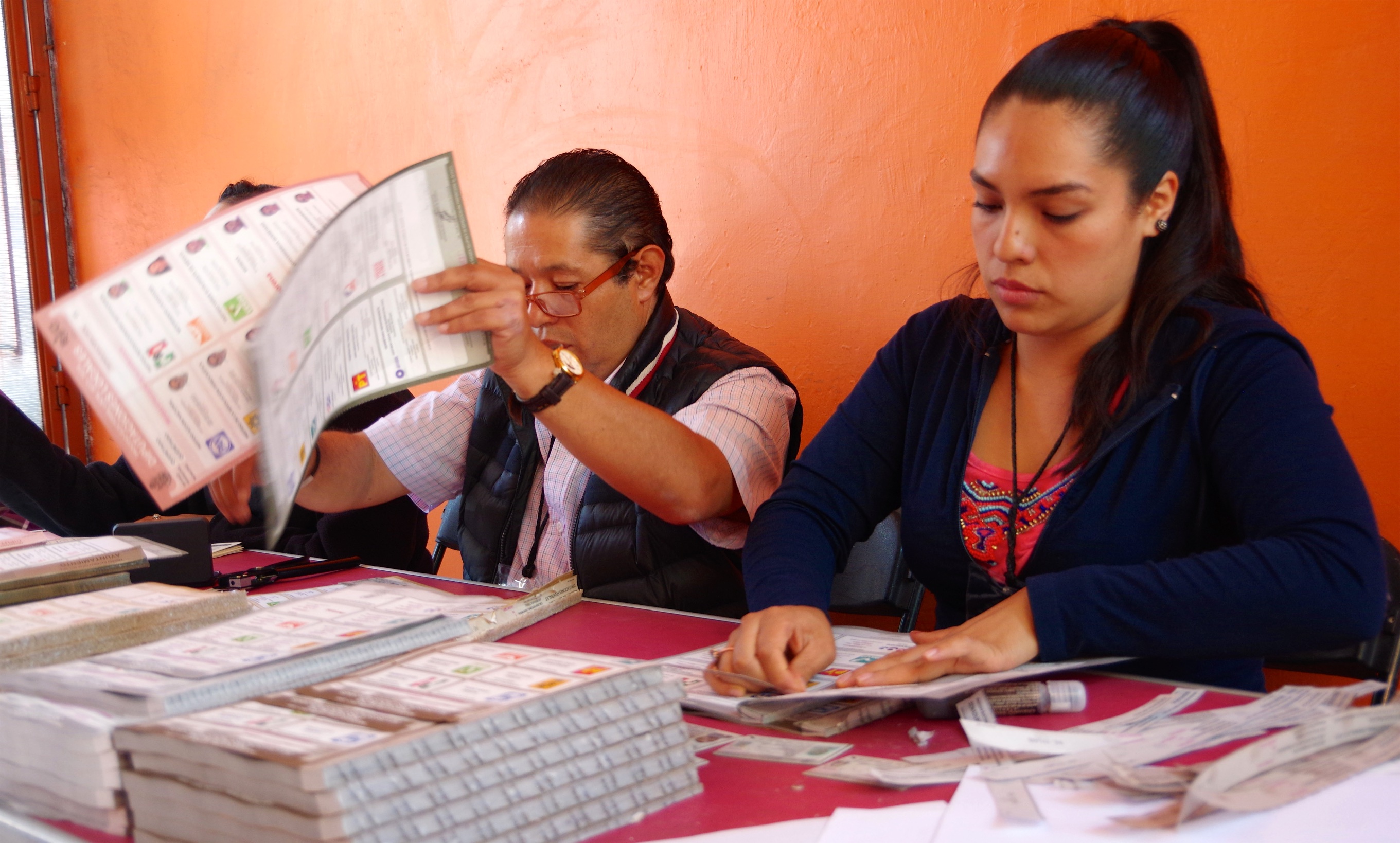 A polling station in Querétaro.
In a report by Mexico City journalist Antonio Baranda published in Plaza de Armas, a Querétrao daily, it was revealed that journalist José Guadalupe Chan was killed in Quintana Roo state the very night before the election. On July 24, Rubén Pat, the founder of Playa News, also in Quintana Roo, was killed leaving a bar. In a Reuters report by Lizbeth Díaz an associate of Rubén Pat (who preferred to remain anonymous) stated that Pat had received multiple threats over the past months while covering the crime beat.
AMLO will have a tough task indeed if he hopes to restore confidence in journalists' security and the capacity of the State to preserve freedom of speech. Article 19, The Committee to Protect Journalists, and Periodistas de a pie are among the agencies documenting the ongoing threat to Mexican journalists. Immediately following news of Pat's death, a joint delegation of the European Union called on México to better protect journalists and conduct more thorough investigations of those murdered or disappeared.
And then there is the United States led by one Donald Trump. Mexican dictator Porfirio Díaz (1884-1911) once proclaimed, "Poor México — so far from God, so close to the United States." Those words never sounded more trenchant. AMLO has however proven adept so far in playing the American card. Generally, he refused to be baited by Trump or American policy during the campaign, although he did denounce the separation of families at the Mexico-US border as "inhumane." More often, AMLO stated that he respected Trump and expected the same in return. He agreed that the cheap cost of Mexican labour led to trade distortions and slyly agreed with Trump that Mexican workers should earn more.
La Sierra Gorda, Querétaro State.
Less than two weeks after the July 1 vote, American Secretary of State Mike Pompeo and other officials, including Trump's son-in-law Jared Kushner, were in Mexico City for talks with AMLO. Trump has since claimed that he believes he can work with the incoming administration; and, following AMLO's victory, there is speculation that México, Canada and the United States might come to agreement on a revised North American Free Trade Agreement (NAFTA) sooner than anyone expected. On the issue of migration, AMLO has always insisted that he is dedicated to creating opportunity for youth in Mexico so that they could go to the US for tourism rather than economic necessity. Besides, the greatest number of current migrants come from Central America and cross Mexico in hopes of getting to the United States or Canada. Though there has been silence so far on Trump's plan to extend the border walls and fences built by previous American administrations, team AMLO says it wants to work with the United States.
In his acceptance speech at the zócalo and in press conferences in the days that followed, AMLO stressed that his administration aimed to preserve local communities and customs. He asserted that development needed to be measured and distributed equally across México. The country has its NAFTA winners, particularly in cities and surrounding regions of the north such as Querétaro, Guadalajara and Monterrey; there aeronautics, automobile manufacturing, electronics and agribusiness have benefited from the combination of low Mexican wages and the absence of tariff walls. Many undeserving victims of NAFTA are found in rural areas, especially in states such as Chiapas, Guerrero and Oaxaca. Some communities hold on, but many have seen small scale agriculture, local business and artisanal pursuits hollowed out. Local knowledge with millennial roots is squandered. Many youth migrate. Clearly some are susceptible to recruitment by organized crime.
The challenges among NAFTA partners are significant. AMLO wants to stay in the Agreement while simultaneously addressing inequality between his country, the United States and Canada. He also hopes to reach some regional accord that will stem the dangerous northward flow of migrants. Such undertakings not only require Mexican political acumen, but equally demand the simultaneous good will and mutual respect of both the United States and Canada.
Small scale agriculture endures against steep odds, providing cultural backbone to México's abundant regional diversity, Mestizo culture and Indigenousness. 
During my recent trip in la Sierra Gorda, a mountain range of northern Querétaro, I came across a man harvesting mangos. Equipped with a pail and a wheelbarrow, Pompili Landaverde carefully reached with a pole into trees that groaned with luscious fruit. He was working on trees bordering the Río Ayutla (Ayutla River) that winds sinuously through a lush ravine. At the end of the pole, there was a small basket ringed with soft fuzzy fabric. Pompili expertly guided the pole to fruit at the correct stage of ripeness, and with a gentle tap mangos fell into the basket undamaged. He insisted that my wife and I take some of the delicious sun-warmed fruit for which he declined payment.
In a nearby widening of the river locals of all ages were wading, swimming and lounging at the river bank. People like Pompili Landaverde and the villagers enjoying their swim in the Ayutla are often engaged in local, small scale agricultural pursuits. Such activities endure against steep odds, providing cultural backbone to México's abundant regional diversity, Mestizo culture and Indigenousness. Unlike most parts of Canada and the United States, México is still defined by a cumulative fusion of Indigenous and European practices that influence Mexican music, visual art and cuisine.
Andrés Manuel López Obrador claims to represent México's disenfranchised peoples. Throughout the recent presidential campaign, and in the short period following his political triumph, AMLO has emphasized the need to address inequality. That is a tall order in México where the discrepancy between haves and have-nots is acute. Not all underdogs are in his camp. For example, the revolutionary Mayan Zapatista groups in the southern state of Chiapas are unmoved by the recent result: for them AMLO is yet another centralizing neo-liberal, only this time posing as a social democrat.
Pompili Landaverde draws from the local abundance.
In the days immediately following AMLO's victory, Gilberto López y Rivas, an anthropologist, journalist, politician and adviser to the Zapatistas, penned an opinion piece in La Jornada assessing AMLO's victory with calibrated scepticism. López y Rivas wondered why AMLO was so quick to assure Mexican corporations that he would not do anything radical. López y Rivas predicted that the 132 candidates who were murdered in regional elections would be quickly forgotten. He insisted that the federal government under the leadership of López Obrador would never accommodate the sort of rural, anti-capitalist, anti-extraction, localized direct democracy championed by the likes of the Zapatistas.
Team AMLO also claims that it can gradually pacify México without providing amnesty to criminals. They cite Colombia where narcotics traffickers and guerrillas have reached some measure of reconciliation with the state. In México, it is difficult to imagine why cartel operators would concede their lucrative business model without significant concessions — concessions which many Mexicans will oppose.
In recent days some regional politicians in México have called for the decriminalization of marijuana and re-directing criminal poppy production to be undertaken solely for pharmaceutical purposes. Last year the United Nations announced that Mexico had become the world's third largest poppy producer, after Afghanistan and Myanmar. Cartels in Mexican states like Guerrero and Sinaloa have expanded such production in recent years to funnel heroin northward. Some narco-economists regard this as a marketing response to the legalization of marijuana in some American states. Based on past performance, it is reasonable to assume the cartels are already strategizing on diversifying products they will offer Canadian drug users as marijuana is legalized in the Great White North.
Even if México were to decriminalize and regulate drugs in its own national space, the seemingly inexhaustible appetite of Americans and Canadians for dope of various kinds will not end. Let's face some sad truths of the continental drug trade: a lot, but not all, of the stuff comes from México. For example, as The Globe And Mail of Toronto and other Canadian news agencies have reported, Chinese criminals have proved masterful in simply mailing black market fentanyl to Canada. But the fact remains that some of these illicit products consumed by Americans and Canadians come from México, even when they are sometimes produced elsewhere, as with Colombia in the case of cocaine. One needn't be Donald Trump to accept that fact.
Dealing with a perception that he "smacks of Latin American socialism." Photo credit: [o].
For those of an ethical bent, here's the hell of it: as the human toll since the Calderón presidency and afterward shows most of the people dying are Mexicans. These are people caught in the crossfire of an expensive and often violent "War on Drugs" as cartels and corrupt politicians corrode civil rule. Former presidents Vicente Fox of México and Jimmy Carter of the US are among those now publicly calling for an end to the "War on Drugs" strategy. AMLO has not yet clearly stated what part a revised drug management strategy he might have in his vaunted "pacification" plans. Good luck to him. It will be impossible to entirely remedy the drug problem in a single six-year term.
Andrés Manuel López Obrador takes power officially in December. Though the Mexican constitution requires a gradual transfer of power between presidents, AMLO faces domestic political danger because of general insecurity and the power of the cartels. While he is enjoying a brief honeymoon abroad, governments in North America and Europe will be wary of anything that smacks of Latin American socialism. Some major media outlets are already poised to brand AMLO as a Mexican Hugo Chávez, the controversial Venezuelan populist, with scant evidence to support the charge. They might rather look at his impressive record as mayor of gargantuan Mexico City from 2000-2005.

JAMES CULLINGHAM is a documentary filmmaker, historian and journalist. His media production company, Tamarack Productions, released its most recent documentary last month, Jim Galloway: A Journey in Jazz, at the Toronto Jazz Festival. www.tamarackproductions.com
Photographs by the author, except where noted.
 
Comments
Great update on the new political reality in Mexico. I live in Mexico most winters and own property there. There are elements of this country that we, as Canadians, long for — such as the local character of food, artisanal goods, and language. They give Mexico a character all its own. Even if Mexicans spoke English, they wouldn't have to sew Canadian flags on their backpacks so they won't be mistaken for Americans. You cannot travel through Mexico (forget the resorts) without falling in love with the Mexican people. They are kind, generous, funny and warm-hearted.
Let's hope Mexico's new president can deal with his country's drug cartel problem and bring peace back to one of the world's greatest countries.
Add new comment