In the Corners Hit by the Sun: The Visual Poetry of Gustavo Minas
Standfirst
Part street photographer, part forager of visual contradiction, Gustavo Minas' eye is ever trained on catching two lovers in passionate embrace: furnace-rich color and mine-shaft shadow. The charge of their co-mingling exists so strongly in several of his photographs here, we might think he's a frustrated painter. Not so, this young photographer is putting forth his own unique take on visual poetry.
Body
'Pole and Woman' (inset)— Casilla, Brasil, 2012
Maximum Shadow, Minimal Light
Photographs by Gustavo Minas
Edition Lammerhuber
Hardcover: English, Portuguese
192 pages. 95 photos
May 2019
It all started when I was working 11 hours a day, including two weekends per month, writing for a daily newspaper in São Paulo.
I had to pretend my life wasn't so boring. I needed some adventure.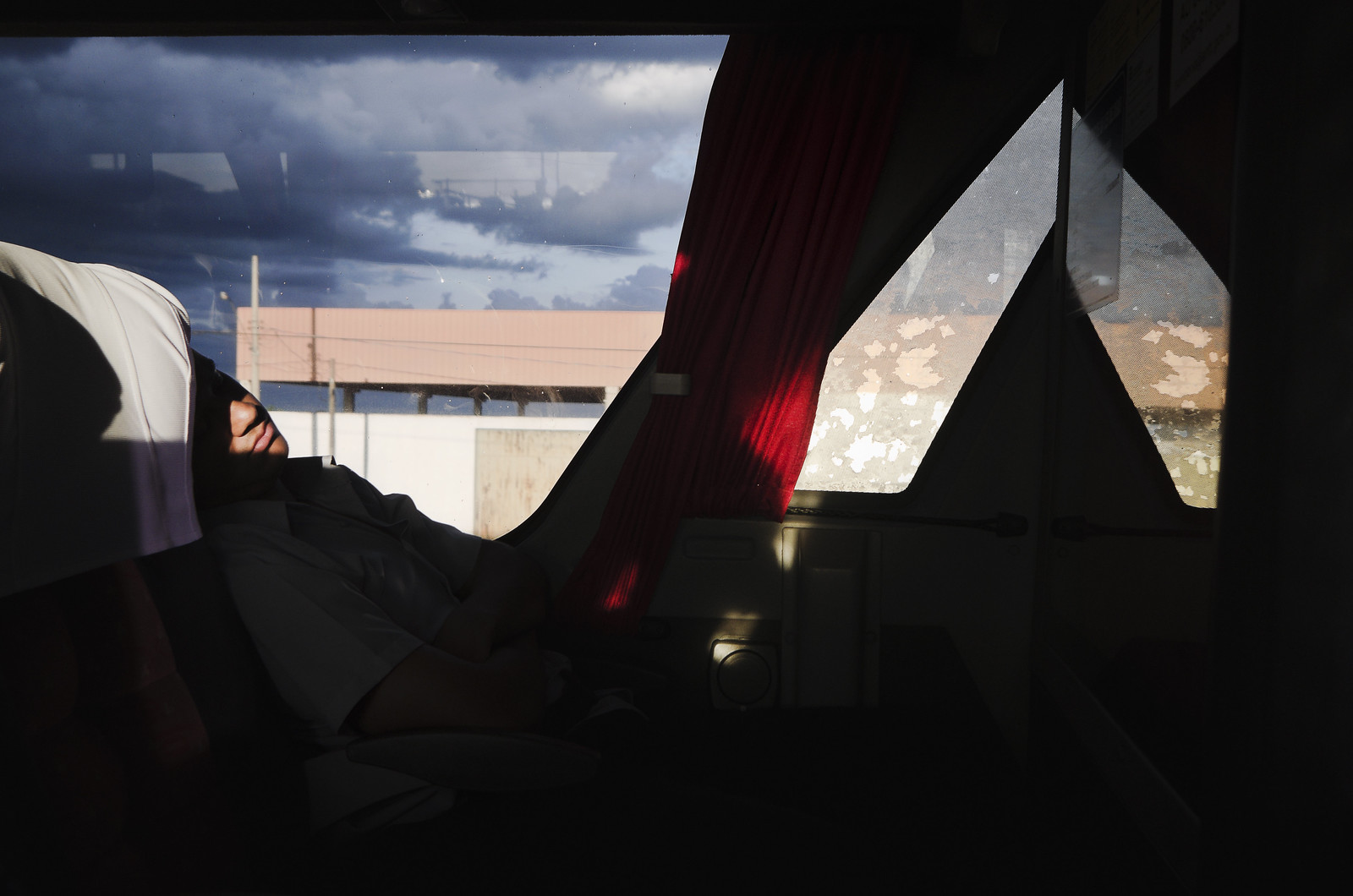 'Bus Station #01' — Brasília, 2015
I took photography classes under Carlos Moreira, a classical street photographer from São Paulo. With him I learned about Harry Gruyaert and Gueorgui Pinkhassov.
I wanted that light and those colors for myself . . .
. . . so I went chasing them through the streets of São Paulo, Cássia, my hometown, and more recently Brasilia, where I now live.
'Fair' — São Paulo, 2011
As years passed,
I became more obsessed and passionate about doing something just to please myself.
'Blue Chairs' — Guará, Brasil, 2014
I loved the feeling of waking up at 6:30 am and swallowing a cup of coffee to wander the streets when everyone else was rushing to work.
Seeing the sun rising behind the buildings and painting everything in orange felt revigorating.
The city kept me fascinated each day, like a new girlfriend.
'Beauty Clinic' — Sao Paulo, 2011
I learned photography's shortcuts and created my own imaginary map. I had no preconceived ideas.
Everything interested me . . .

 
. . . from trash cans to all the common sleepy people like me, taking the bus to their boring jobs.
'Pole and Woman' — Cassia, Brasil
I just looked for the corners hit by the sun.
Under a certain light, nothing looked ordinary.
'Imaginary Friend' — Brasília, 2017
I got to places I'd have never been to, if not to photograph.
Sometimes, the long walks have been more rewarding than the pictures.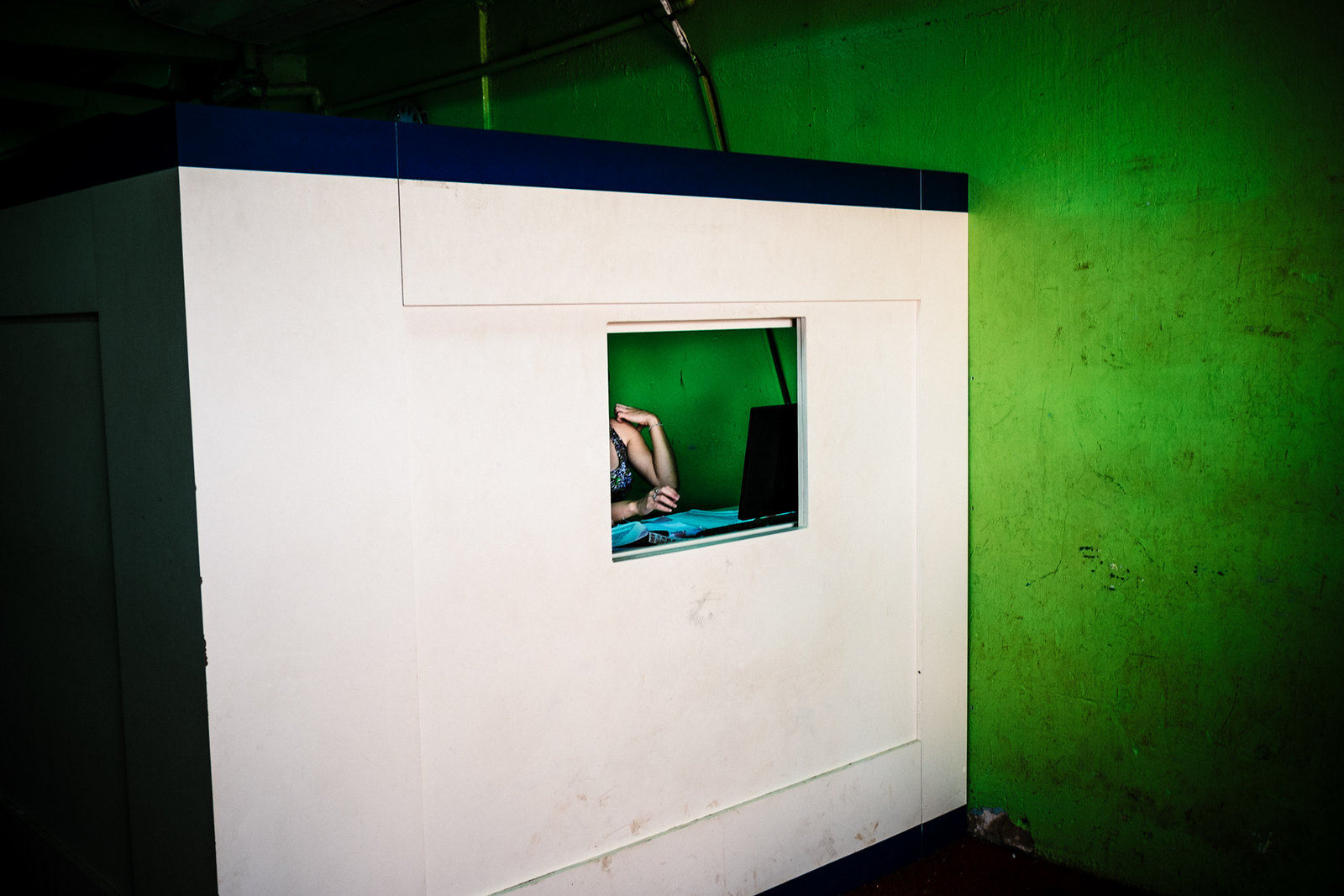 'Green' — Ciudad del Este, Paraquay, 2014
Wandering with an empty mind has taught me how to see, and the pleasure of seeing.
I have never felt bored again with my life.
'Road' — Franca, Brasil, 2012

Gustavo Minas fills out
THE WILD CULTURE QUESTIONNAIRE
What is your first memory and what does it tell you about your life at that time and your life at this time?
It's of me eating a coconut ice cream on the beach with my parents and some family friends when I was around 3. I guess it suggests that I love beaches and ice cream.
Can you name a handful of artists in your field, or other fields, who have influenced you — who come to mind immediately?
Carlos Moreira, Jean-Luc Godard, Eric Rohmer, Harry Gruyaert, Alex Webb, Gueorgui Pinkhassov, Saul Leiter, Reinaldo Moraes, John Fante, Charles Bukowski.
Where did you grow up, and did that place and your experience of it help form your sense about place and the environment in general?
I grew up in Cassia, a very small town (18,000 inhabitants) in the countryside of Brazil. I think that growing up in a small town makes one very curious about the rest of the world and different realities.
If you were going away on a very long journey and you could only take four books — one art book, one fiction or poetry, one non-fiction, one theory or criticism  — what would they be?
Lumières Blanches, by Harry Gruyaert; Tanto Faz, by Reinaldo Moraes; A Fortune-Teller Told Me: Earthbound Travels in the Far East, by Tiziano Terzani; The Ongoing Moment, by Geoff Dyer.
What was your most keen interest between the ages of 10 and 12?
Football (soccer).
Do you have an 'engine' that drives your artistic practice, and if so, can you comment on it?
Curiosity, and the need to escape my own bubble. And also, the desire to make beautiful images, of course.
If you were to meet a person who seriously wants to do work in your field — someone who admires and resonates with the type of work you do, and they clearly have real talent — and they asked you for some general advice, what would that be?
Find your very own motivation. Don't expect any kind of validation from the outer world.
Do you have a current question or preoccupation that you could share with us?
Hmmm, tough one. I hope the world turns into a better place for my daughter to live in. And I hope I can retire soon from my job so I can dedicate myself solely to my personal photography.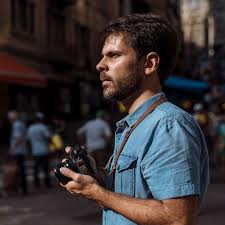 Gustavo Minas. [o]