Creativity in the ruins: an interview with Steven Morgana
Standfirst
Ahead of his participation at London Art Fair next week, artist Steven Morgana talks to Tom Jeffreys about the indistinct relationship between progress and decay.
Body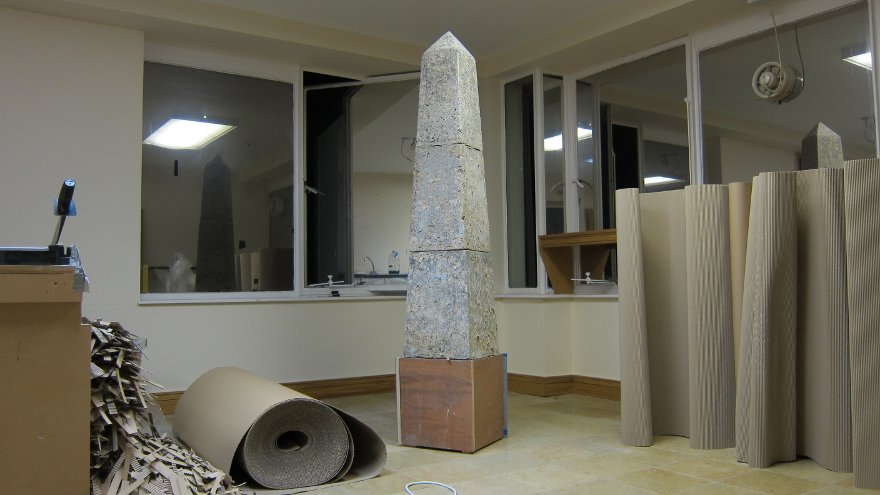 A wet flat roof in Ravenscourt Park, West London: three floors up, a grey view out across the city. A crabby concrete staircase winds upwards, a peeling Premiere Inn looms overhead. It's a strange place to find the work of twentieth century Arte Povera legend Michaelangelo Pistoletto, especially as it's the very same work that was on show as part of
The Mirror of Judgement
at the Serpentine back in 2011. Or rather, it's not the same work – but the same material.
Because, as part of
London Art Fair
next week,
La Scatola
– one of the most consistently engaging contemporary art galleries in London – is presenting a project by Australian-born artist
Steven Morgana
that holds this mirror of judgement back up to Pistoletto himself, and, indeed, perhaps, to contemporary consumer society more generally.
Pistoletto's exhibition at the Serpentine consisted of a winding labyrinth constructed out of large rolls of corrugated cardboard. After navigating this makeshift maze, visitors emerged to be confronted by a colossal mirrored obelisk, that was intended, apparently, to encourage a reconsideration of our relationship with nature, with particular emphasis on Pistoletto's strange world view concerning three orders of paradise. This vast reflective structure was constructed to bring about the convergence of Pistoletto's first two paradises in the form of a third: "the new myth that leads everyone to take personal responsibility at this momentous juncture".
And yet… In one of the unlikely coincidences that seems to characterise the work of Steven Morgana, the artist received a tip off earlier this year, explaining that a young London-based architect had somehow got hold of all the cardboard rolls from the exhibition. They'd seen a previous work of Morgana's – a geodesic dome (also made of cardboard) suspended in the air by the waste products of its own production – as part of his summer solo show at La Scatola, and thought he might want some more cardboard to play with.
After several phone calls, Morgana tracked down the relevant person, turned up in a truck to collect everything, and now has it stored in a room just next to his studio in what was until recently a vocational college in West London. "The Serpentine was planning just to throw them all away," Morgana tells me over a cup of tea in a Polish café nearby. So much for "personal responsibility"…
Over the course of a couple of hours at the café and in the studio (like the garden shed of an amateur inventor transposed to a disused local council office), Morgana rolls his cigarettes and chooses his words with precision and care. We discuss all manner of things: from growing up on the west coast of Australia ("every day the scent of sulphur being blown into the city) to "shooting the shit" at home with François Morellet. All of which feeds (more or less tangentially) into this current project for the London Art Fair.
Entitled Mottainai (a very specific Japanese term meaning "a sense of regret concerning waste when the intrinsic value of an object or resource is not properly utilised"), it acts as a kind of supplement to Pistoletto's work, reworking the materials, and functioning like a mirror – although not one as literal as Pistoletto's. Back inside the studio, Morgana shows me his own obelisk – the cardboard rolls have been laboriously cut up, pulped down, mixed with Portland cement and poured into moulds. It's not vast but human in scale, not mirrored but lightly peeling: he describes it as "not pathetic exactly, but defeated, disenchanted".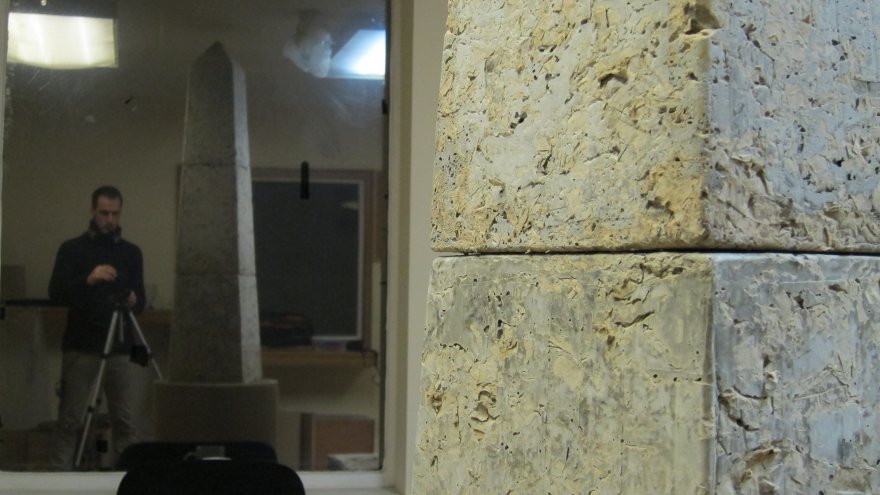 Whilst the project may have started out as something satirical, over time the ideas have evolved. "Objects are always slippery things!" Morgana laughs, but he also talks of the impact that the studio space itself has had upon the development of the work. "A lot of my friends work in disused spaces – legally or illegally," Morgana explains, "and due to the exigencies of today people are being forced to do so more and more. I became interested in this particular site I was working in: the synchronicities, associations and linkages forming between the cardboard and the site".
Once anodyne, now dark with disuse and dangling cables, the building was formerly home to Lincoln's Group of Colleges, which offered accountancy courses for overseas students. Earlier in 2012, Morgana tells me, they had their Tier Four license suspended and the company went into administration. Since then, ahead of its demolition later in 2013, the building has been home to various artists' studios as well as a homeless charity.
Morgana draws my attention to the posters that still adorn the outside of the building – young boys and girls smiling with enthusiasm and hope or staring conscientiously into laptops. "Over time," Morgana explains, "circumstances have somehow foreclosed the message these images once communicated – the promise of knowledge, dismantled in this curious situation." Now, he continues, the building houses artists like him – "being creative in the ruins of the dreams of these kids, of our own generation, in a way".
It is this sense of words or actions or objects being overrun by context that links these two disparate occurrences. Mottainai becomes therefore a way for Morgana "to extend the lifecycle of the cardboard, but also to engage its previous history and the message that Pistolleto sought to convey concerning the creation of knowledge and responsibility towards the future." In this way, the work functions as a "kind of floating commemorative object" – both to the hypocritical waste demonstrated by Pistoletto and to the now defunct private college ("redefining excellence in education" it once claimed).
Interestingly, Morgana goes on to cite Cleopatra's Needle in London and the Luxor Obelisk in Paris as examples of the way in which one half of a pair of obelisks is often "expropriated from its native context by some colonial power and sent back not only as a symbol of that empire's authority, but also as a way of synthetically grafting the high point of that previous culture, now extinct, onto the developments of that nation – trying to establish a connection over time". Is this something Morgana himself is doing in relation to Pistoletto?
Perhaps. He tells me that the project is to include a second obelisk, which will remain on the roof of this building, even as it is demolished, whilst the other will "enter the contingent networks of the art world", starting with London Art Fair. In a sense, standing in the artist's studio, on a circular plinth made of Pistoletto's cardboard (the original "Exhibition Continues" sticker neatly holding it in place), it already has.
As well as the very specific origins of its own materials and the context of its own production, Mottainai explores, in Morgana's words, "the very indistinct relationship – especially today – between progress and decay". "I think, he continues, " that in every act of creation there is some kind of destruction – something else is depleted, reduced, used, exploited on various levels and scales. I don't think we can avoid that."
From here, one obelisk emerges, blinking, into the light of an empire of art. Back out on the roof, at the summit of a ruin, the other will stand – a monument, a mirror – to weather the storm, and be ruined like the rest.
London Art Fair 2013 is at the Business Design Centre, Islington from 16th-20th January 2013.www.stevenmorgana.comwww.lascatolagallery.comwww.londonartfair.co.uk