Francis Fukuyama: 'Political Order & Political Decay'
Standfirst
Once controversially associated with his 1989 'end of history' essay, and later heralded as the lion of the American right, Francis Fukuyama is a political philosopher to reckon with. Our reviewer explains how his new book may provoke your thinking about our political world.
Body
Political Order and Political Decay: From Industrialization to the Globalization of Democracy.
By Francis Fukuyama
Farrar, Straus and Giroux, 2014
The prolific political philosopher Francis Fukuyama has essayed again, this time with a weighty (in all respects) tome that outlines his understanding of political development in the west in the modern era. It's the second and final installment of his treatise that began in 2011 with The Origins of Political Order.
The two-part series undertakes nothing less than an overview of the rise and fall of institutions of democratic accountability in western Europe, Latin America, the United Kingdom, and the United States since the Industrial Revolution. In the current book, he picks up from the chronology of his inquiry in the first volume dealing with the governmental legacies of imperialist monarchies, the Enlightenment, and the important revolutions that took place before 1789.
He accurately identified Hegel and Marx as originators of the 'end of history' analysis . . .    
Fukuyama cut his scholarly teeth as an intellectual in sympathy with the so-called Reagan revolution that supposedly reasserted American dynamism and global significance following setbacks like the Viet Nam War. However, by the Iraq War he began to take some distance from the ideology and strategy of the George W. Bush administration — and a Republican party that he felt had lost its way. So, with the election of Barack Obama, Fukuyama had earned the uncomfortable distinction of facing criticism from America's centrist and neo-conservative political thinkers alike. Perhaps such intellectual isolation fosters original work.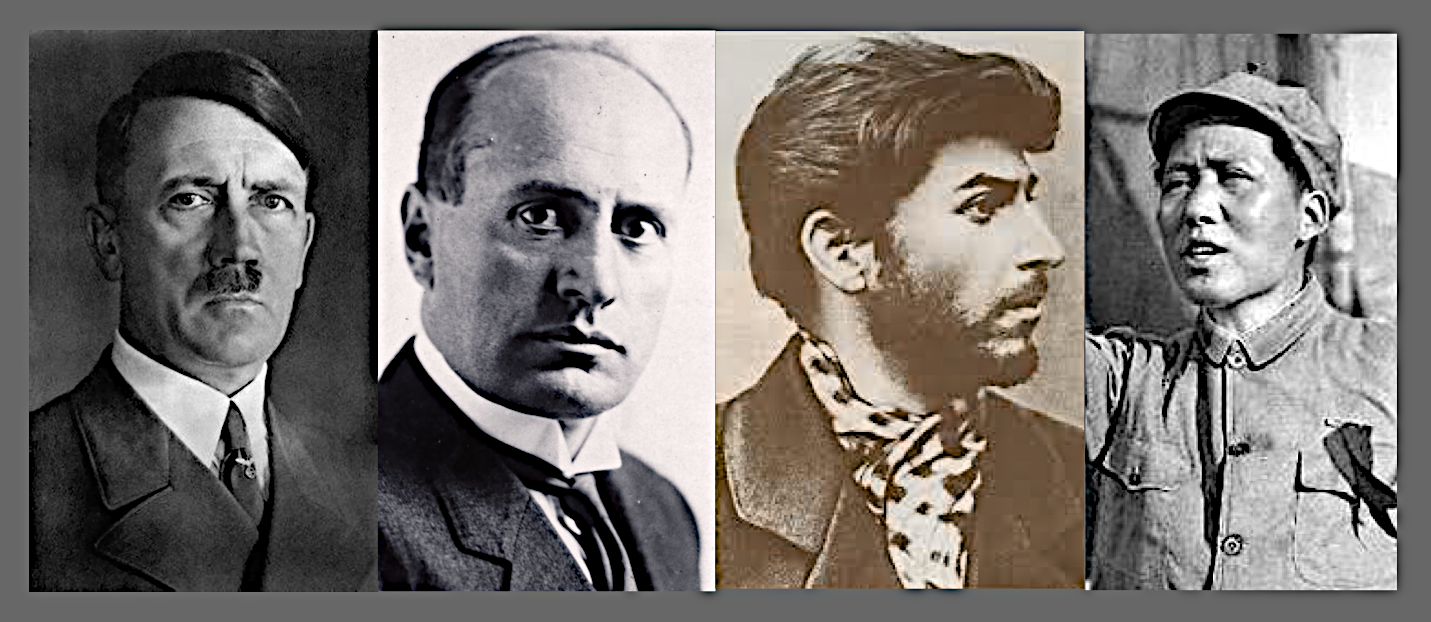 'Test drivers': Hitler, Mussolini, Stalin, Mao.
Fukuyama is famous, and in some eyes notorious, for the "end of history" theory that he first advanced in an article published by The National Interest in 1989. With Mikhail Gorbachev then championing perestroika and glasnost, and the Soviet system on the brink, Fukuyama posited that the imminent collapse of global communism, and the defeat of German fascism in the last half of the twentieth century, heralded humanity's rejection of twentieth century grand schemes of social engineering and totalitarianism in preference for the ideals of liberal representative democracy. Fukuyama suggested that the world had taken Hitler, Stalin, Mao and Mussolini for a test drive, but opted for Adam Smith, Alexis de Tocqueville, John Locke and John Stuart Mill. His analysis elicited some very negative retorts; among many accusations, he was said to be blindly advocating a global system that privileged the USA and former imperial powers of 'old Europe.' Fukuyama insists that he was misunderstood, and accurately identified Hegel and Marx as originators of the 'end of history' analysis that describes inevitable (at least to the likes of Hegel and Marx) processes led by emerging bourgeois societies.
American "vetocracy" does not generate optimism in an age of climate change and Ebola outbreaks.
In Political Order and Political Decay, Fukuyama undertakes a further explanation — and perhaps a correction of sorts — of his post-Cold War argument. Its global scope is admirable, but the argument demonstrates its most evident strengths when Fukuyama focuses on the United States. (Born in Chicago, Fukuyama currently teaches at Stanford University.) In looking at the US, he advances some very unconventional thinking — at least for someone once considered to be an intellectual lion of the American right. Charting the historic role of a depoliticized civil service in fulfilling vital administrative tasks of government, Fukuyama makes useful comparisons between administrative institutions of government in countries influenced by either British parliamentary practice, or the American and French revolutions.
For instance, his analysis of the emergence of the US Forest Service, as an example of a body of professional bureaucrats at least temporarily decoupled from political expediency, patronage and lobbying, is fascinating and instructive. Also, his glance at attempts at railway regulation at the beginning of the twentieth century usefully foreshadows clumsy attempts in our own era to regulate telecommunication industries and the Internet. Fukuyama regards an independent bureaucracy — dedicated to serving all citizens — as a democratic bulwark. If he was once a Republican apologist, Fukuyama's Republicanism goes back to the almost red Tory domestic policies and public duty of a Teddy Roosevelt. This ain't no Tea Party.

Smith, Locke, Mill, Toqueville.
Perhaps most thought provoking in his consideration of political decay in the US. He examines a system of checks and balances run amuck in which a surfeit of interest groups, lobbyists and lawyers create gridlock and stifle democracy while claiming to act in its name. His description of American "vetocracy" in which political actors, including the President, lack effectively representative (but reasonably constrained) decision-making power does not generate optimism in an age of climate change and Ebola outbreaks.
Francis Fukuyama is a contemporary political philosopher to be reckoned with. He has produced an intellectually valid yet readable work that draws on a myriad of examples — and a deep reading of his philosophical underpinnings. At times the book may suffer from being overly ambitious in its reach, but most readers, regardless of their political leanings, will find that Political Order and Political Decay challenges and provokes their thinking.
~
Francis Fukuyama discusses The Origins of Political Order, the book that precedes Political Order and Decay in the two-part series. The Origins of Political Order covers the time period from the primates to the French Revolution.
And, going deeper, here is a critique of Fukuyama's earlier seminal work, The End of History and the Last Man (1992), by the late Christopher Hitchens. (These videos were posted on YouTube in 2009 on YouTube; as to the actual date of the talks, we're not sure. If you know, please get in touch — journal [AT] wildculture.com).

JAMES CULLINGHAM is a journalism professor at Seneca College in Toronto, and documentary film maker; his most recent film is In Search of Blind Joe Death: The Saga of John Fahey. James recently received his doctoral degree in history from York University, Toronto, with a thesis entitled "Scars of Empire: A Juxtaposition of Duncan Campbell Scott and Jacques Soustelle."
PHOTO CREDITS
Hitler, Mussolini, Stalin, Mao, Smith, Locke, Mill, Toqueville.