Round Switzerland with a Crinoline
Standfirst
An award-winning poet journeys across Switzerland, following in the footsteps of pioneering Victorian adventurer Jemima Morrell. By Helen Mort.
Body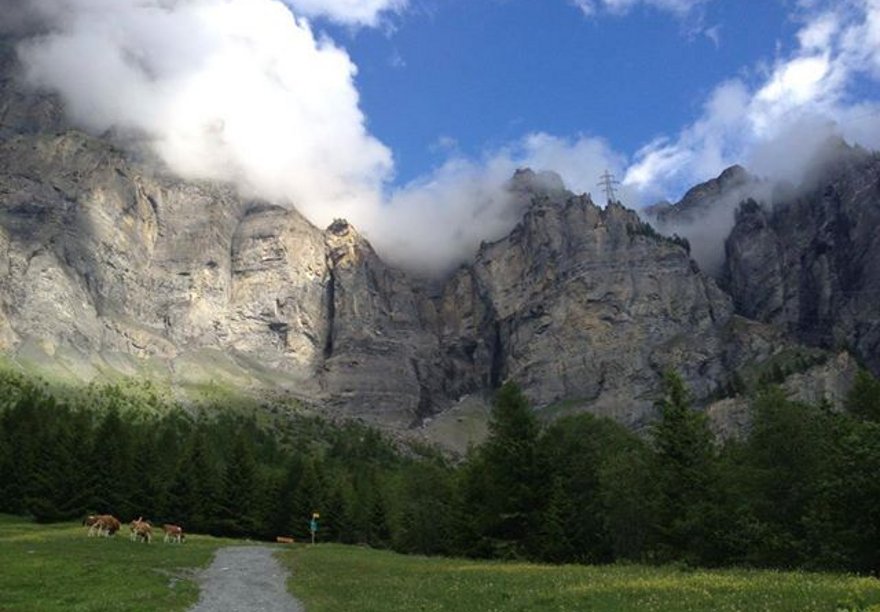 Could you walk 45 miles across the Alps in a crinoline dress? Until June this year, the question had never entered my mind. One Victorian costume, several mountains and many cable cars later, I knew the answer.

When I won a competition earlier this year to follow the footsteps of Victorian adventurer Jemima Morrell across Switzerland, I had no idea who she was. From Swiss Tourism and Inn Travel, I soon learned that Yorkshire-born Jemima was a member of Thomas Cook's first conducted tour of Switzerland in 1863, travelling from England to Paris, then across to Geneva via Chamonix and across Switzerland from there. This was the first time that anyone other than the upper classes got the chance to venture abroad en masse. As a 31 year old single woman, travelling independently, Jemima was a pioneer.

We only know about Jemima and the 1863 expedition thanks to an old tin box discovered in the rubble of a blitzed East London warehouse in the 1940s. When the box was opened, it revealed two slim, red volumes: an account of Thomas Cook's first conducted tour of the Alps, written by one Jemima Morrell from Selby. This account, known as Miss Jemima's Swiss Journal, was to guide me on my own journey through a country whose mountains I'd only read about and shuddered, my head buried in a copy of Heinrich Harrer's 'The White Spider' when I was a teenager.
 
When we arrived at our first mountain town, I experienced a keening I'd never felt in the hills before.

Unlike the tourists of the 1860s, who proceeded on foot or by mule for most of their three week trek, the modern Jemima would mostly travel and make notes from the comfort of train carriages, cable cars and boats. And, as befits the age, she would be recording her adventures through blogging and social media. In my new role, I was accompanied by journalists, photographers, competition winners and others on the condensed Swiss tour, staying in different hotels each night on our journey from Geneva to Zurich and enjoying the food and drink on offer there in a manner that Miss Jemima — a member of the Temperance Movement — would surely have blushed at.




When we arrived at our first mountain town, lofty Leukerbad in the canton of Valais, I experienced a keening I'd never felt in the hills before. As the bus wound through steepening terrain, a fast, vertiginous river down below, I stared up and out of the window at the banded rock and longed to stand at the bottom, pressing my palms against it. I realised that, whenever I usually go to mountain landscapes, it's to climb or walk in them. To pass beneath them was a strange, almost frustrating experience. As everyone else took photos out of the bus window, angling their cameras to take in the imposing Gemmi (dark and spiked, folded almost like a pair of bat wings), I sat subdued, occasionally noticing bolts placed on the rocks, the tell-tale sign of climbing routes.

Next morning, we woke early for breakfast in the heated baths at Leukerbad, a scene that Miss Jemima had observed a hundred and fifty years earlier (though, being a Victorian lady, she refused to extend so much as a dainty toe into the water). The pools were magnificent, the sun lighting the water in stripes as waiters pushed floating trays of bread, jam, coffee and champagne out to the bathers. But I couldn't quite enjoy the splendour with the Gemmi looking down on me, sunlit but severe. We were due to travel to the summit by cable car after our breakfast. Miss Jemima walked the route, which she described in apocalyptic terms:

The awful power of those rocks as we crept under their beetling walls made one tremble as they irresistibly forced on the mind thoughts of the end and the upheaval of all things.

As I watched the bathers mill gently round me, I couldn't help thinking that Jemima would have sought out that 'awful power' over the comforts that make a journey easier. I slipped out of the baths, put on my hiking gear and tackled the Gemmi  Pass on foot, arranging to meet the others at the top.





The Pass, as it turned out, was meant to be closed due to residual snow. All the better – the route would be a quiet one. Alone suddenly on a zig-zagging path, with nothing but my complaining heart for company, I was suddenly ecstatic again, moving slowly higher above Leukerbad, through bands of snow. After a small detour up a scree slope when I lost the path, half-deliberately, the way was easy but steep. Near the top, I met a Swiss walker who told me – in English far better than my German would ever be – that he came here most Sundays for the pure pleasure of climbing the Gemmi. As I neared the top, pausing to look at the peculiar, beautiful patches of red snow there (a strange, blood-like phenomenon, caused by deposits of desert dust) I could imagine why.

 
I too wore crinoline, hired from a Sheffield fancy dress shop for the occasion.

That first day's walking made me feel connected to Jemima's arduous journey on foot and I was happy to spend the rest of the week's bad weather enjoying the tour and events organised for us and poring over Jemima's journals themselves. When I first began reading, I expected Jemima's writing to be factual and perfunctory. As a poet, I arrogantly thought there'd be little to rouse my literary curiosity. But as I read, I felt privileged to become acquainted with this quick-witted, often sarcastic woman, whose gift for good-humoured satire was matched only by her capability for imaginative description. Here was someone who could catch the strange intimacy of sunset ("the rosy lips of the sun kissed the pale lips of its lovely rival") as eloquently as she could gently mock her travelling companions ("the dangers of Alpine travel may be divided into two classes, the real and the imaginary and in the retrospect it was found that ours all belonged to the latter"). She quotes at length from Dante and Wordsworth, and something of the latter's Romanticism often creeps into her own prose.
As much as the group I was travelling with, Jemima herself became my silent travelling companion over the week. I found myself obsessively comparing her accounts of places we visited with my own notes. I imagined her walking a few paces ahead of me up the long slopes of Mount Rigi. And I began to live in awe of her. Not only did Jemima cover huge distances and scale difficult terrain, she did so in a crinoline dress.
I too wore crinoline, hired from a Sheffield fancy dress shop for the occasion, but only for photoshoots and evenings in the hotels. Standing in the replica dress, my hips felt heavy. Sitting down was a delicate business. Getting through doorways was a kind of tango. I imagined wearing those fashions on the hike up the Gemmi, or getting caught out in one of the many rainstorms we witnessed, the fabric becoming leaden. To say Jemima bore it well would be to imply she thought it was something to be endured. Whatever her own discomfort, she kept her eye fixed on her surroundings and her travelling companions. She had a generous outwardness that most modern correspondents can only aspire to. I may have shadowed her footsteps, but I could never truly follow in them.



HELEN MORT is a UK-based poet, outdoors enthusiast and PhD student researching the relationship between neuroscience and contemporary poetry.
www.poetryonthebrain.blogspot.co.uk

Image credits: Peter Williamson
This article first appeared in The Journal of Wild Culture, July 17, 2013