Taking a Rubbish Trip with Dotmaker Tours
Standfirst
LONDON: Exploring waste in East London - its history, present, and multitude of possible futures, with Rosie Oliver of Dotmaker Tours.
Body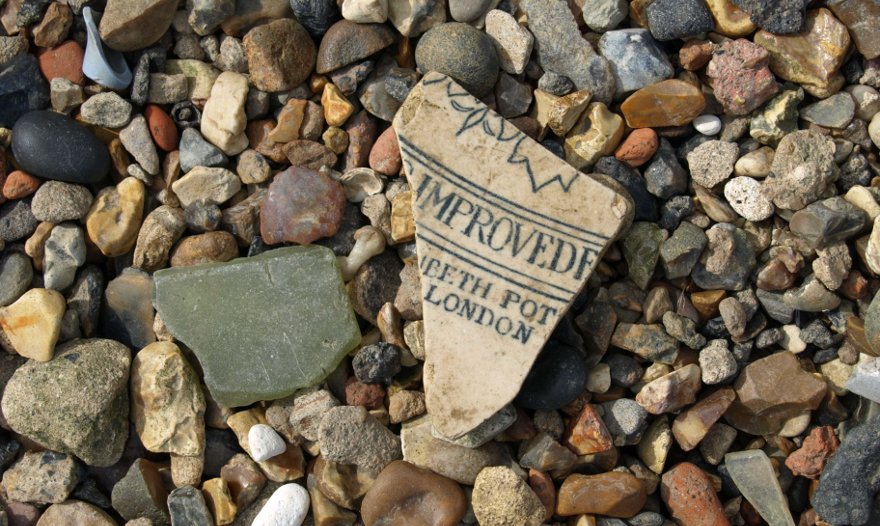 Ever wondered how Mudchute got its name? Or Millwall? These evocatively named places on the Isle of Dogs, out in the far eastern outskirts of London, beyond the glass towers (and ceilings?) of Canary Wharf are, in my mental map of the city at least, little more than semi-connected points on the Docklands Light Railway – curiosities that, along with the likes of Heron Quays or East India or Galleon's Reach – carry hints of London's colonial trading past, but are otherwise little more than names. Or were: because, thanks to Rosie Oliver who runs Dotmaker Tours, I now know a little more about this fascinating area, its present, strange past, and multitude of possible futures.

Born and raised in nearby Blackheath, Rosie has trained as an environmental lawyer, worked for a development NGO in Bangladesh, produced audio features for Tickertape Productions and dealt in rare books, prints and ephemera. These diverse interests inform the range of tours now offered by Dotmaker – the idea being that, instead of a straightforward history lesson, Rosie uses a particular theme as a lens through which to begin to think about the area in question. These include, for example the 'Greenwich Bestiary', family-friendly 'Secret Missions', 'Chimneys and Tunnels' and, on the perfect June evening that I attend, the 'Rubbish Trip'.

We meet outside Mudchute DLR, and make our way down to Millwall Docks, a bustling hub of trade and industry at the height of the British Empire. The name, it turns out, came from the wall of windmills that faced onto the Thames, with their waste 'mud' ejected through a tunnel out into Mudchute. From here, we walk over to Mudchute City Farm, where an unexpected artillery emplacement recalls the country's defence against the destruction wrought by the Luftwaffe – with nearby Bilson Street almost completely obliterated. Today the street is a mix of surviving Victorian terraces, and strange, boxy pre-fabs, built as temporary housing in the 1950s and still standing to this day.  

We stop in a 1960s housing estate – soon to be "improved" as part of the Island Gardens Estate Regeneration Project – stroll down Glengarnock Avenue, with its '60s blocks supplemented at Galleon House by the extraordinary addition of what look like medieval wooden window frames with leaded panes. Then it's on through Millwall Park and down to the Thames and the beautiful view across to the Old Royal Naval College; under the Greenwich Foot Tunnel and out onto the banks of the river for a final spot of mud-larking and stone-skipping.
 
There are many types of rubbish, then, and much of it will never go away.

Over the course of the tour we're introduced (in a loose sense) to sundry Dickensian characters (the Mudlark and the Bone-Grubber, the Sewer-Hunter and the Rubbish-Carter) and given a vivid sense of how rubbish – that which is thrown away or cast aside – is not simply pushed elsewhere, but reincorporated into the very fabric of the city. The London stock bricks, for example, out of which much of the city was built up until the early 20th century, are made from dust and ash as well as clay (a point explored by artist Serena Korda at the Wellcome Collections Dirt exhibition in 2011). Meanwhile, outside Mudchute City Farm, a gently sloping semi-circular bank is not the remnants of some Roman amphitheatre but a 'landhill' constructed from industrial ash. Inside, the farm's chicken run has been built of rubble from the ongoing Crossrail project.

Rosie is particularly enlightening when explaining the cyclical nature of waste in terms of both economics and possible ways towards a more sustainable future for the city. The price of waste, for example, fluctuates just like any other commodity. In 1803, she tells us, Marylebone Council were paid the princely sum of £2,350 by scavenging contractors for the privilege of collecting local rubbish. Today, Veolia are looking into extracting palladium and platinum from road sweepings.

And Rosie draws interesting parallels between rubbish as unwanted matter, and people similarly designated as rubbish – those who, for whatever reason, don't fit with society's prevailing attitudes and are pushed to the edges, to be discarded. When Michael Heseltine, then Secretary of State for the Environment, flew in his plane over this complex area back in 1981, he described it, we're told, as nothing but a collection of "rotting docks, long since abandoned… 6,000 acres of forgotten wasteland." It served his purposes to think that of course, and paved the way for Margaret Thatcher's Canary Wharf project – undoubtedly a success for certain global businesses, but located in the borough of Tower Hamlets where four in 10 children still grow up in poverty.

The similarity between Heseltine's blinkered vision of a wasteland and that of the last two governments towards Stratford and the Lea Valley, where the 2012 Olympics destroyed existing local communities in the name of some nebulous future "legacy", is striking. There are many types of rubbish, then, and much of it will never go away.



www.dotmakertours.co.uk