Fighting the Sun for Sport: The Finish
Standfirst
Armed with a deep understanding of what the body can endure, an amateur cyclist takes on one of the most gruelling athletic events in the world. Part 2 of a 2-part series. Photos by Titan Desert.
Body

READ PART 1 of this  2-part series.
It's the end of April 2014. Jon Bowskill, a top London rehabilitation specialist, has already completed the first three days of the Titan Desert by Garmin mountain-bike race, covering 403 km in the Atlas Mountains of Morocco — and the breathtaking but dangerous descent to the edge of the desert.
"Each day you said it can't get any harder than this, and it got harder," recalls Bowskill. He is not the only one amongst the riders who found things tougher than expected, and now the sun and the Sahara were going to make things a whole lot tougher.
The water gets so hot, it's like bathwater.
Day 4 began at a camp in Boudnid, in Eastern Morrocco near the Algerian border, where the 120 km course for this day started with roads leading into stony desert. Temperatures were rising, climbing beyond 50 C. "It was unseasonably hot," says Bowskill, "even hotter than [the organisers] thought it would be." Racing in Europe, a rider may get through six litres of water, but here, you need at least half that again. Riders must have a Camelbak, a special rucksack of water, and start every day with three litres. 'The water gets so hot, it's like bathwater," says Bowskill with a grimace. "It's not very refreshing.' Camelbaks are refilled at aid stations about every 40 or 50 km along the route.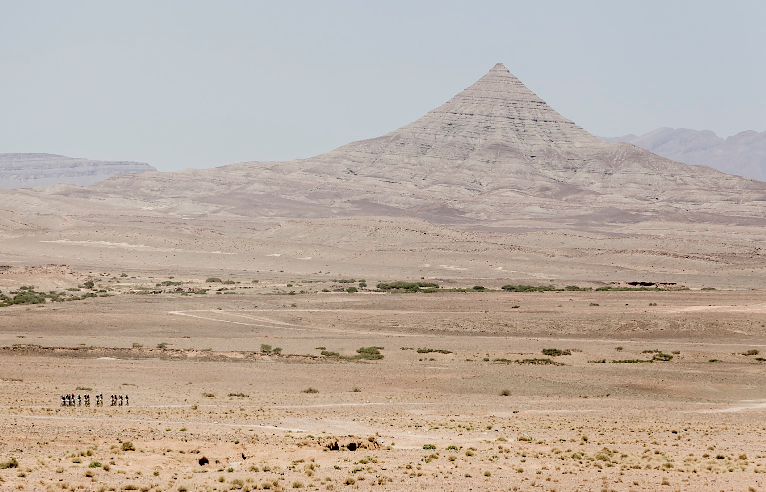 Almost as if a mirage, a pack of cyclists push past one of the Atlas Mountains.
At the aid stations, Bowskill had earlier whizzed through, taking just a couple of minutes to refill water. But now he was lying in the shade maybe for 10 minutes, trying to cool down and trying "to eat some solid food rather than just gels." Bowskill's survival consumables included nutrition-rich chewable-jelly Shot Bloks and high-energy flavoured Roctane gels. But as he says, "Eating just gels for 10 or 12 hours in that kind of heat doesn't do you any favours."
Bowskill had been in desert conditions before when he'd run the punishing Marathon des Sables in Southern Morocco the year before. He knew what happens with dehydration: not being able to keep food down and feeling a bit disorientated. To alleviate these effects he added Nuun electrolyte tablets to his water.
"So I knew what was coming," he declares. Yet "there were stages when I thought, 'I don't know how I'm going to keep going.' And there is little by way of support in between the aid stations because it is such a long stream of competitors. It's impossible for the guys monitoring it to be everywhere."
All but the pro-riders are walking with their bikes.    
The fourth day took them into the Saharan sand. "As soon as it gets sandy you've got to put more power into the pedals and keep moving," says Bowskill. "You're pushing more slowly, you're on-and-off, on-and-off. It's very energy sapping. Saharan sand is dry and fine, not like what you get here on [UK] beaches. It's kind of like a dust, it behaves almost like water. It trickles down the dunes."
As they get into the dunes, all but the pro-riders are walking with their bikes. "You have a route map, that might say you've got 30-40 km to the next aid station, and you've got no idea how long that's going to take." Bowskill recalls a scary moment in the vast dunes of Erg Chebbi, 250 km east of Marrakesh near the Algerian border. (An 'erg' is a large 'sea' of sand dunes formed by windblown sand). "Where there was no navigation, you have to take a bearing... At one stage in that, I stopped and said which way from here? I waited for someone behind me, and turned. Nobody, as far as the eye can see."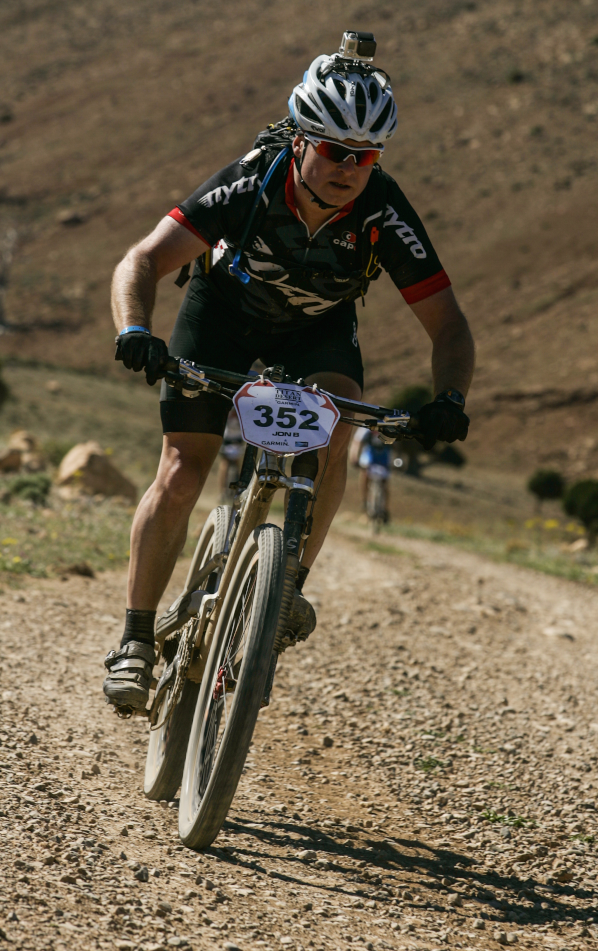 Day 3. Jon Bowskill, #352. "I'm approaching Boudnib after a long and very hot day in the desert."
Yet in the deserted desert, almost like mirages, people do appear. "Occasionally these kids would show up out of the middle of nowhere. You'd look up and four or five kids just [appear] literally out of the blue. They were usually after sweets or gels, or they might chase you. It's difficult because they see you coming through and they have nothing. They're shepherding camels or sheep and we're flying through their backyards on flashy bikes."
The attrition rate was climbing towards 40%. 'They'd overcooked it a bit.'
And there are wells out there too, where Berbers bring their camels to drink. Bowskill stopped and pulled up a bucket to find ice-cold fresh water. "You'd pour a couple of buckets of that over yourself and end up drinking a bit of it. It was so refreshing. Then you think, 'I really shouldn't be doing this.' But it tastes so good," he says smiling. "Sweet water."
"There were some days where the last 20 km was just horrific," says Bowskill. Day four was one of those. At the end of it, he was just twelve minutes inside the cut-off time for reaching the end camp in Erg Chebbi. "After 10-and-a-half hours, I knew I was right on the edge of what I could manage — and the dunes had only started." There'd be a lot more of them on the fifth day at Merzouga. But something else was happening…
Day 6. Camp in Merzouga.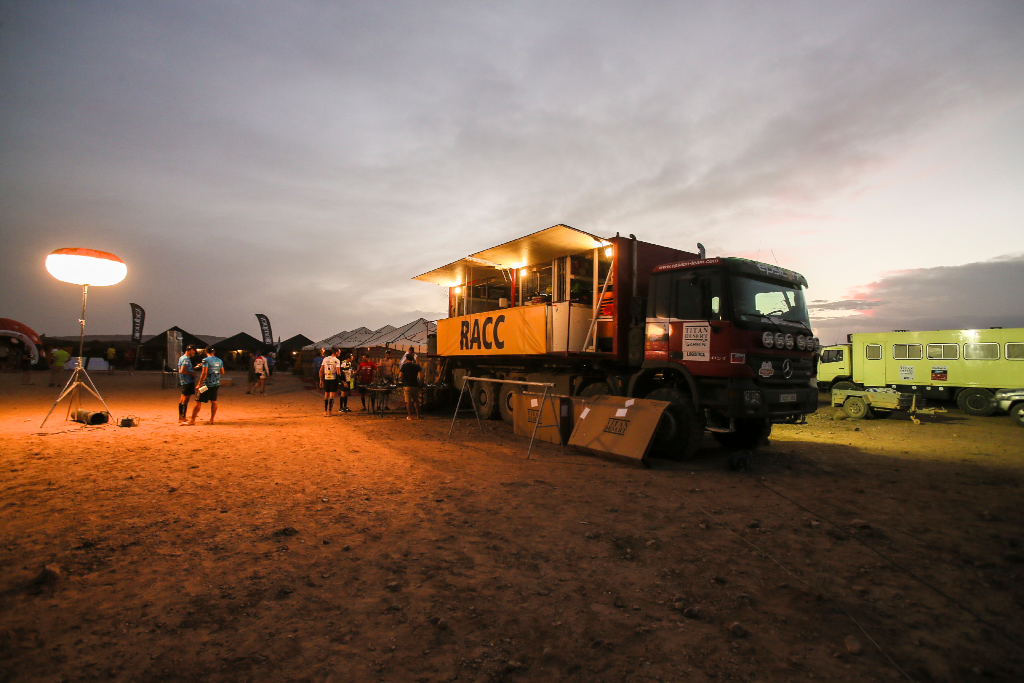 Communications and logistics hub — and charging station for our GPS.
For Bowskill, the sheer scale of the race was feeling increasingly surreal. It was 100 km longer than the previous year, and the general feeling — from discussing it with Titan Desert veterans of five or six years — was that it was much harder than before. "Had it been 75 km shorter, rather than being a battlefield for survival, you would have had a buffer," says Bowskill. "It would have been super-challenging still." This wasn't just talk. Normally, perhaps a tenth of riders would drop out on a race of similar scale. Now, the attrition rate was climbing towards 40%. "They'd overcooked it a bit" was Bowskill's comment.
You meet people in the heart of who they are.    
The fifth day of the six day race was to be 113 km of desert, but as he explains, they actually chopped it in half because of the conditions and the attrition rate. If people reached 56 km, they would still be in. Bowskill got to the aid station at 29 km before having to retire, and describes how it ended for him. "I got to the aid station [where] usually you can rest for half an hour, an hour, have some food, get in the shade and often-times you'll feel your energy bouncing back a little bit. A doctor came out and [gave me] an anti-nausea jab and some electrolytes and food and water. But nothing changed. There was just no way to continue. You have to accept the reality of what it is. You've found your limit. When you get to what your limits are, that's what your limits are." 
Day 2. In Gourama, the marathon day camp in the mountains.
Bowskill had fought the sun, and the sun won. Exhaustion and fatigue overwhelmed him. In the end, only 280-odd of the 450 racers completed the race. "I sat down with a guy on a minibus when I got taken off the course," he recalls. "He'd had mechanical failure with his bike. He was actually the first guy to cycle to the North and South Pole, Juan Menendez Granados. You meet all sorts of amazing characters."
But Bowskill certainly has no regrets. He raised nearly £2000 for Claire House Children's Hospice. Moreover, he carries the profound feeling he had, that "you're connected to nature, you're in the desert and it brings you very close to what it's like to be living in those kind of conditions. It gives you a different perspective on how you see things when you come back. It strips away a lot of modern technology and things that cloud our life and buzzing around in the city. It strips it down to food, water, the environment and how you live in the environment."
Why does he do it? "It's partly the wilderness, seeing different parts of the world, the physical challenge, the people, the relationships, the camaraderie. It isolates you from everything going on in the outside world. All of these people going for the same goal, all with pretty much the same equipment, there's no hierarchy. It's a level playing field. You meet people in the heart of who they are."
There were other highlights, no less meaningful. "We were woken up every morning at 6 am by a song," says Bowskill, "'Hey Ho,' by the Lumineers. It played over loudspeakers throughout the camp. It became the anthem of the week." 
Jon Bowskill certainly won't be calling it a day with these extreme long-distance events. Next year he plans to do endurance races in Patagonia and Nepal. Wild Culture will be following him.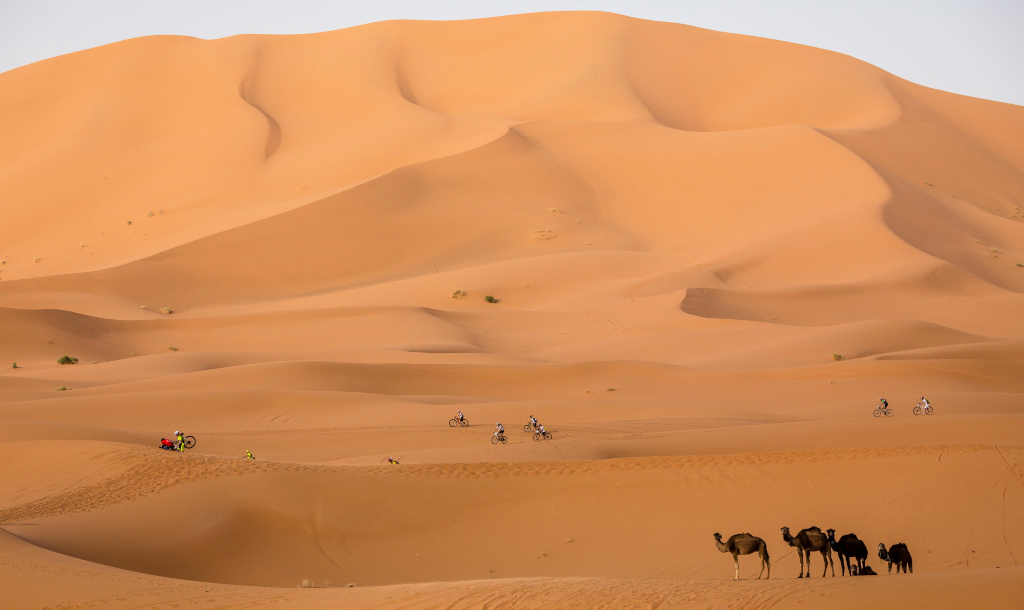 Day 5. In the 'sea' of windblown sands dunes at Erg Chebbi.
NEXT YEAR'S RACES
3. North Face Yak Attack, the world's highest mountain bike race. View video.
WHAT IT WAS LIKE for Jon Bowskill on his ride — for less than a minute. (If video frame does not appear, please refresh page.)

HERBERT WRIGHT is a London-based author and journalist specializing in architecture and art, and a contributing editor of The Journal of Wild Culture. He studied physics and astrophysics at the University of London. He is currently contributing editor of Blueprint magazine, columnist of the Royal Institute of British Architects Journal, and contributor to le Courier l'Architecte. Herbert has taken an interest in endurance cycling, starting with Le Tour de France and its physical and mental toll on the cyclists. Herbert is an urban man but is fascinated by remote places and the limits of human ability, and is an admirer of Italian cycling legend and Tour de France winner Marco Pantani.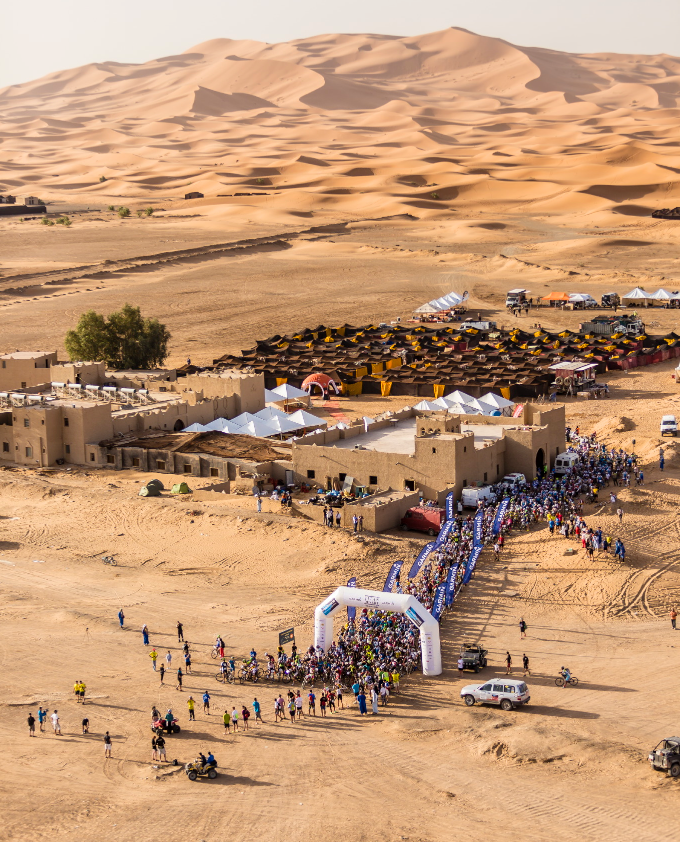 Entrance gate to the camp at Erg Chebbi.