Frieke Janssens' Freaky Virtuosity
Standfirst
Belgium photographer Frieke Janssens' two decade exploration of the space between surrealism, myth tropes and innocence imploded culminates this week in London with the launch of her new book, The Sweetest Taboo. While playing upon themes such as death, everyday intoxicants and the battle of the sexes, her visual language often straddles whimsy and tragedy, perversity and elegance. At times her photographs catch her subjects frozen in pre-liminal space — all dressed up with no idea where they're going.
Body
From the series, 'Animalholics.'
NEW BOOK
The Sweetest Taboo by Frieke Janssens
Hardback, 160 pages (2017)
Lannoo Publishers, € 45,00
BOOK LAUNCH & ARTIST'S TALK 
April 18, 7pm at Caravansérail
5 Cheshire St., London E2 6ED
EXHIBITION (in collaboration with the Ingrid Deuss Gallery, Antwerp, Belgium)
The Brick Lane Gallery
The Annexe, 93-95 Sclater Street, London E1 6HR
To April 22
SAMPLES FROM SERIES BY FRIEKE JANSSENS
'Dianas' — about Single Women
Janssens is strongly interested in how some single women behave in their hunt for love. With this series she combines the ancient Roman goddess of the moon and patroness of hunting and virginity with the more recent, western phenomenon of single women hunting for love. This series was conceived when Janssens began talking to her single female friends. Often successful women in their thirties, these singles face peer pressure and social taboos, whether they are breakable or rather detached and rough.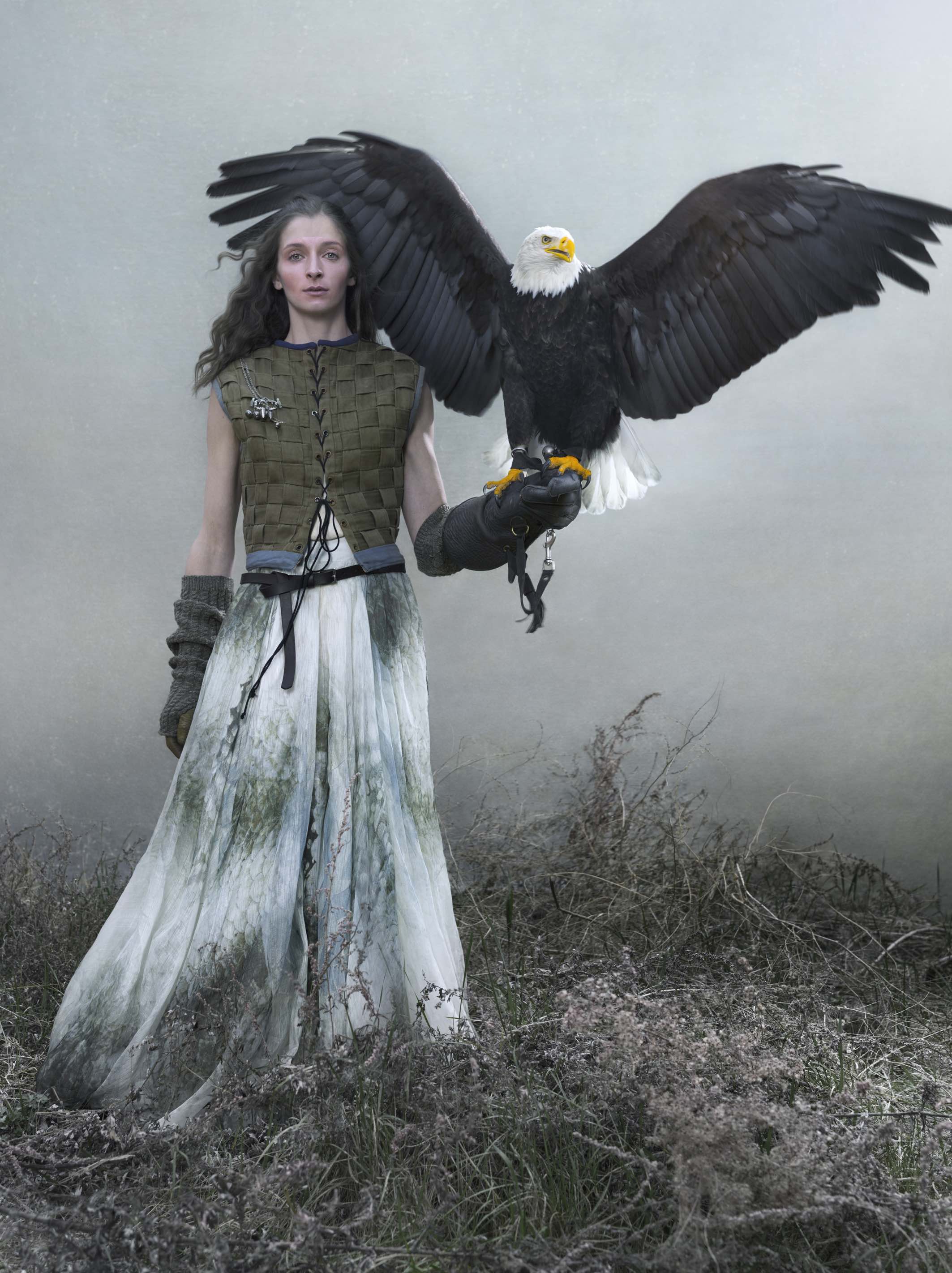 "An underlying fragility is always near."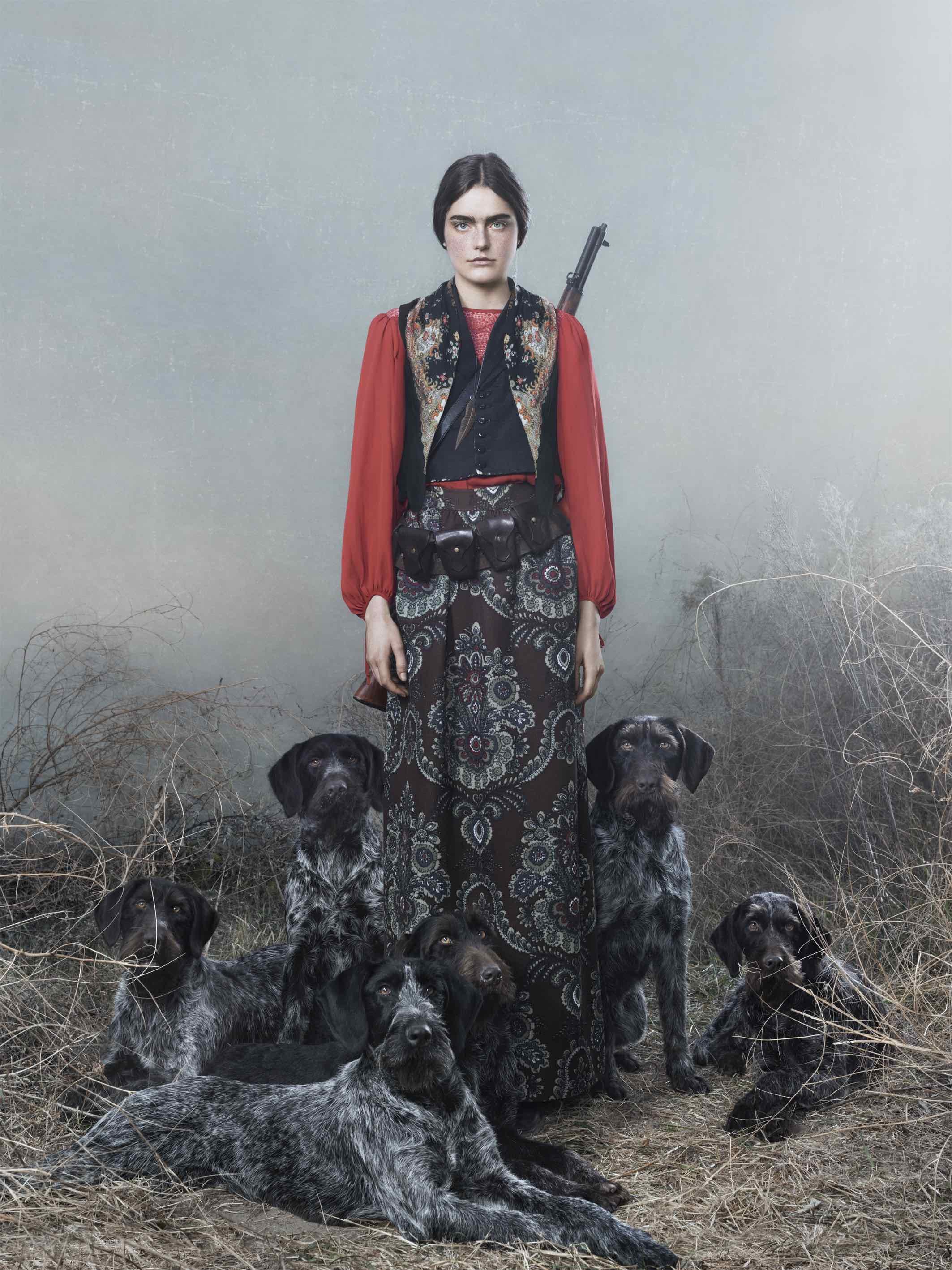 "The women are depicted in the silence of the early, misty morning, surrounded by a woodland pond or grass, reeds and wild plants."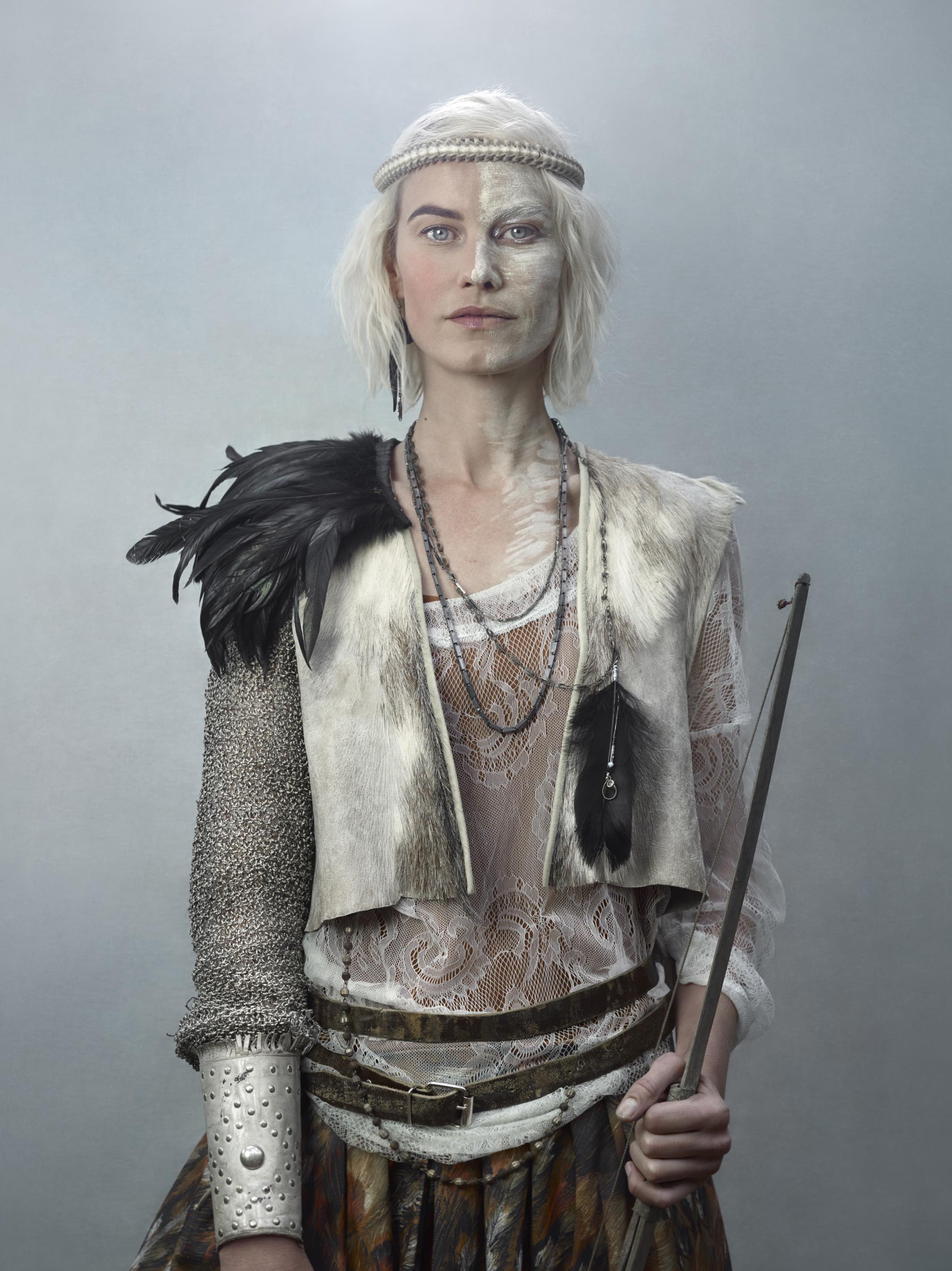 'Huntress.'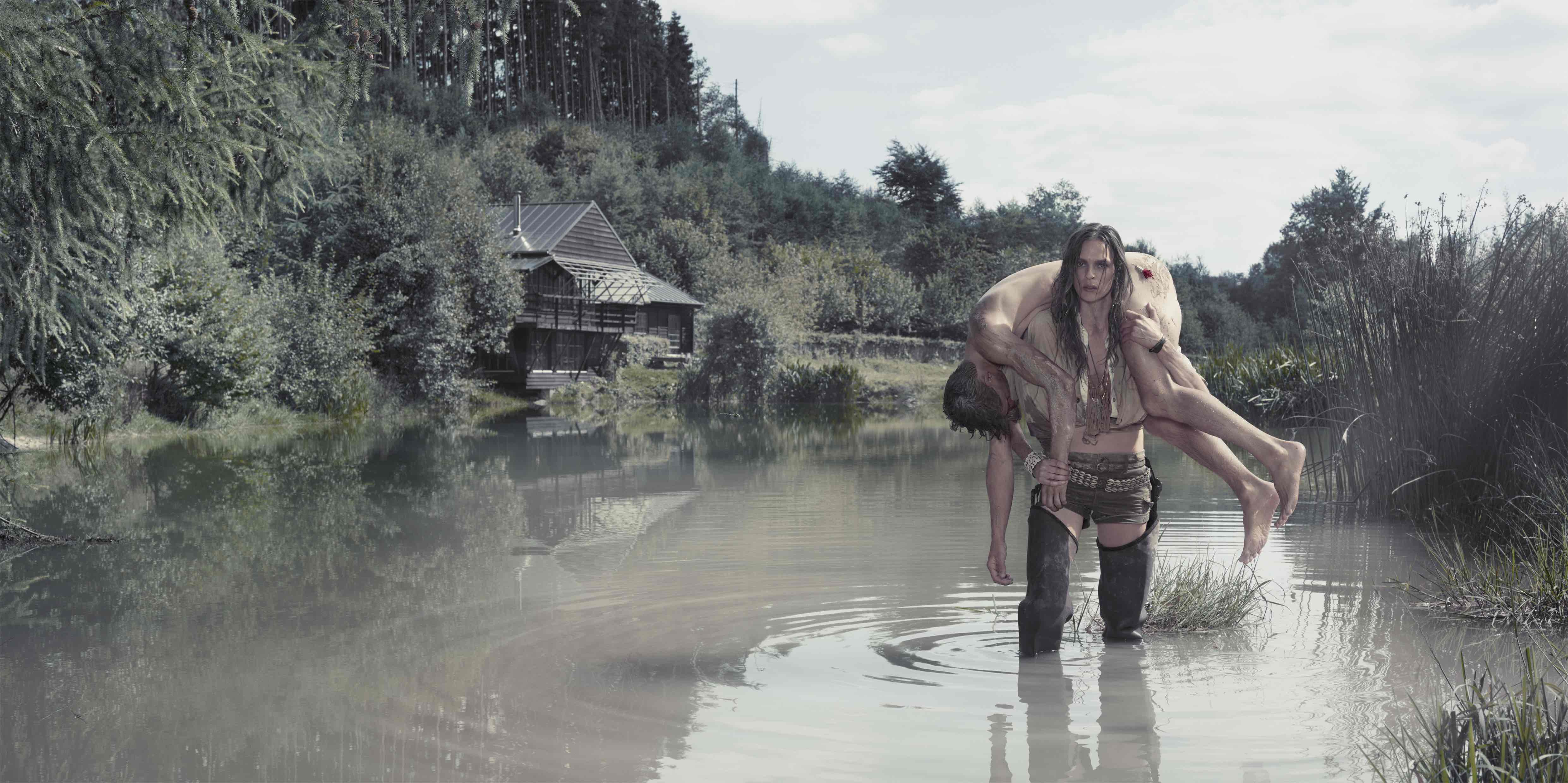 'The Chalet.'
'The Hide.' "[The men] are fallen — reduced to a hunting trophy, a coveted prey. Except for the lonely black man in the wood. Without any possibility of resisting the divine will, he seems to be hiding for the death one of the Dianas will bring upon him." Quotes from frieke.com
Smoking Kids
Te series was inspired by a video of a two-year-old Indonesian boy who smokes two packs of cigarettes a day; it made her consider the cultural differences between east and west and the fact that smoking is an activity reserved only for adults. To avoid controversy, Frieke used fake cigarettes and smoke from candles or incense. 
'Cigarillo.'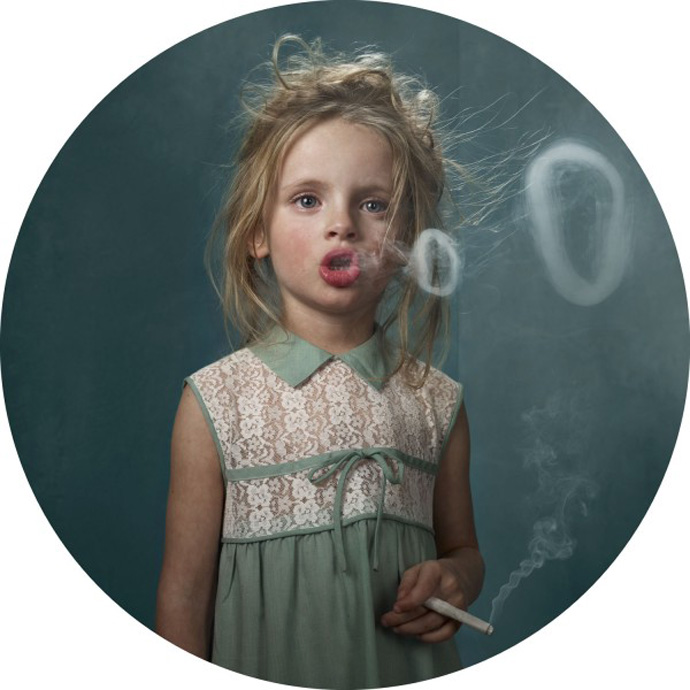 'Rings'.
Animalholics
Janssens found her inspiration for this series in dozens of gin posters and a study of the jenever distilling process. Oxes and pigs play a not unimportant role in the rich jenever tradition. Farmers fattened these animals with distillation wast (pulp of distilled grain) that contained traces of alcohol, which led to expressions like 'zo zat als een os' ('as drunk as an ox') and 'zo zat als een varken' ('as drunk as a pig').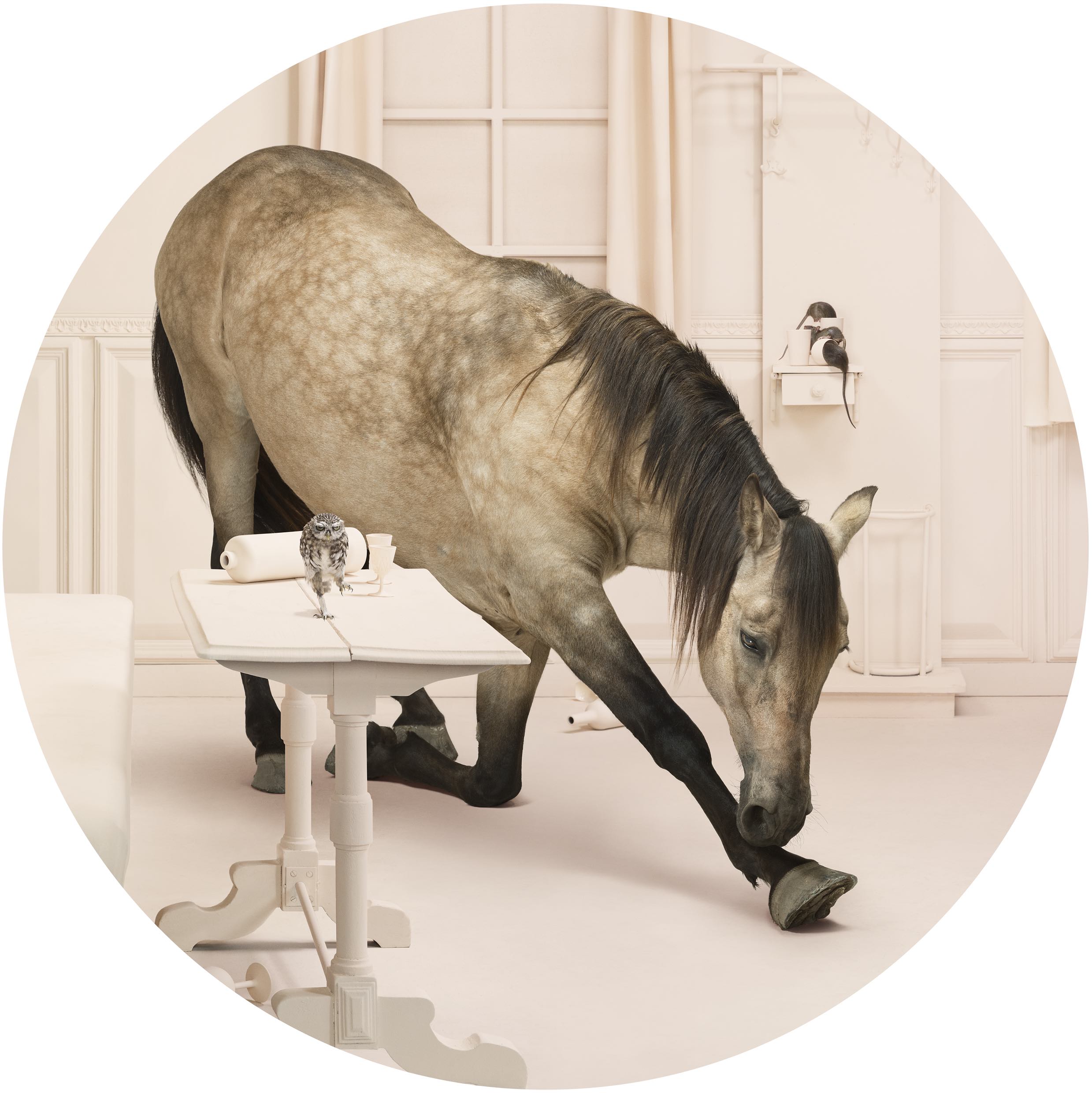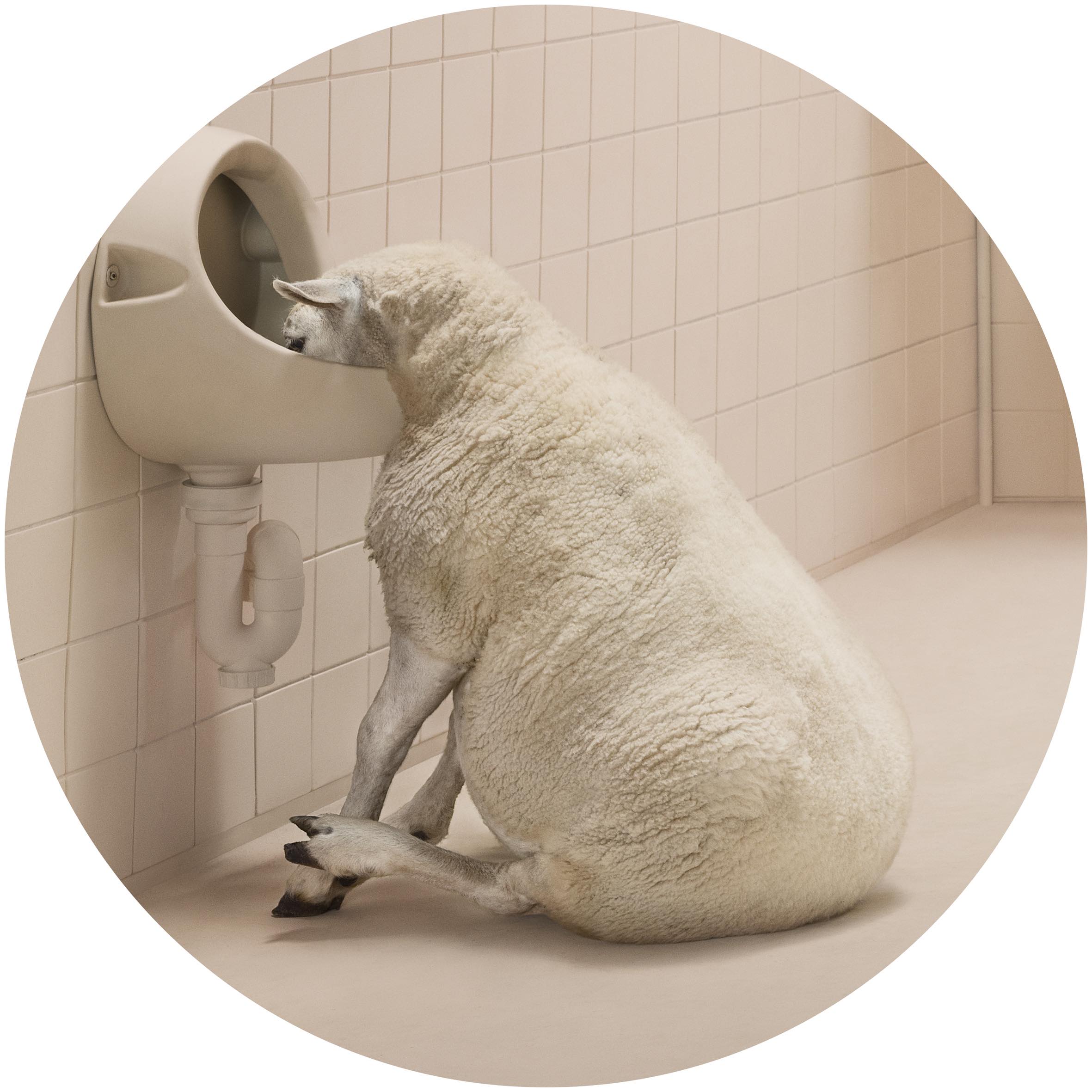 Miscellaneous Subjects
From the series, The Intoxicated. "I was looking for nuanced, honest emotions — without the self-control and self-consciousness people usually exhibit when posing in front of a camera… It was new for me to lose control of my subjects."
From the series, 'Busts'.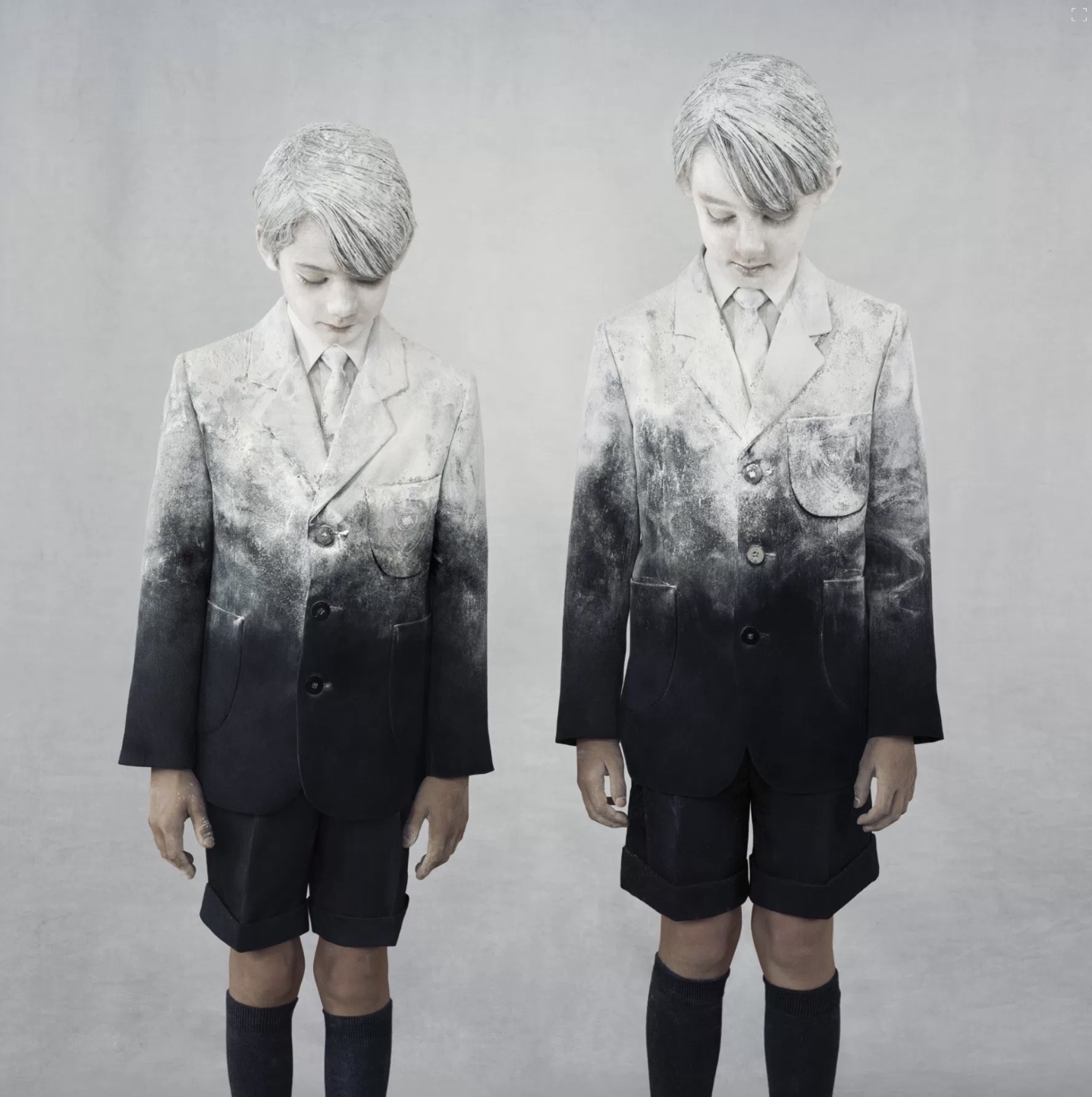 'Chalk Boys', from a campaign to support after-school education for underprivileged children, the Art of Giving Foundation.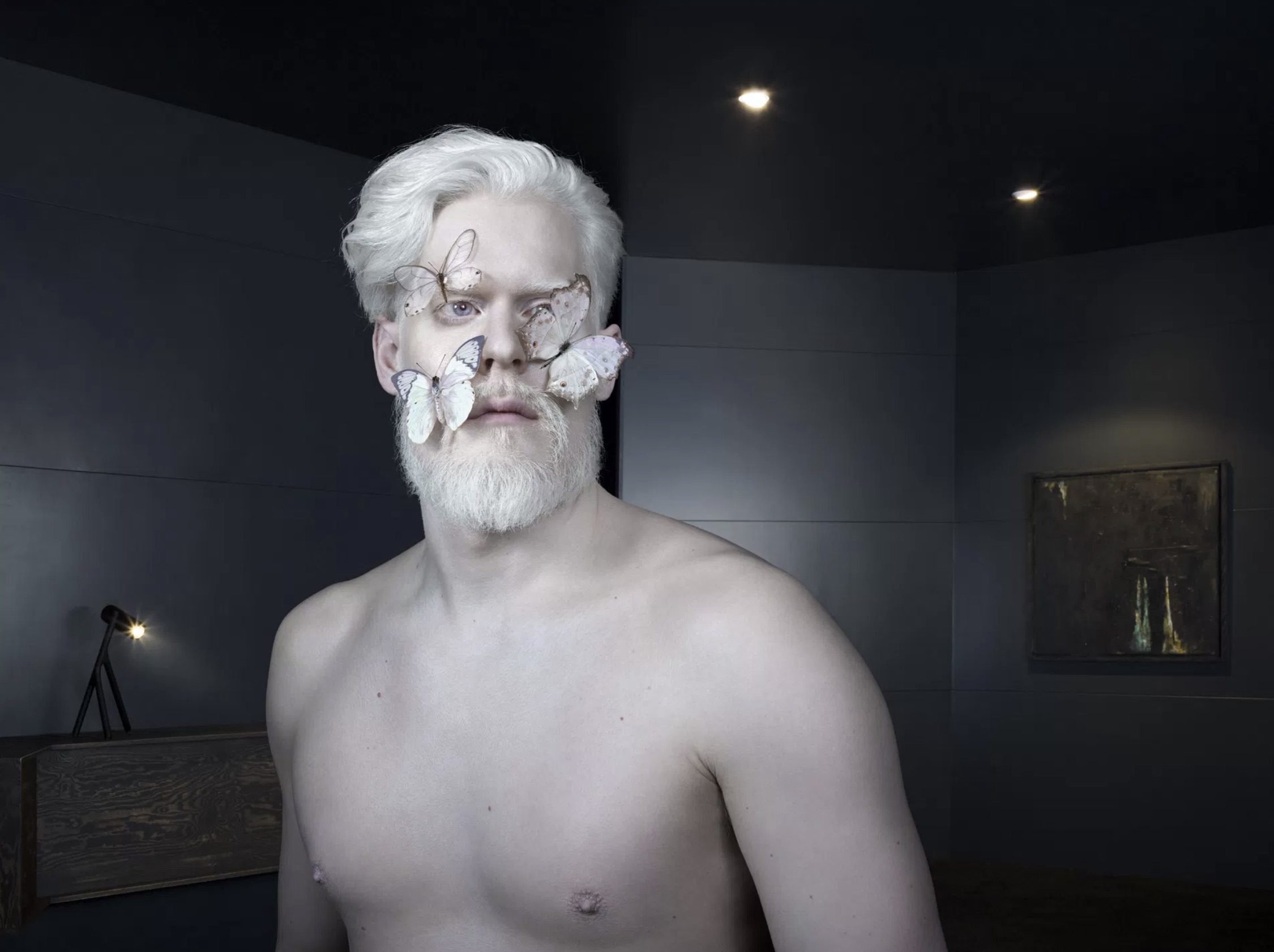 The attraction of butterflies. [Editor's titles.]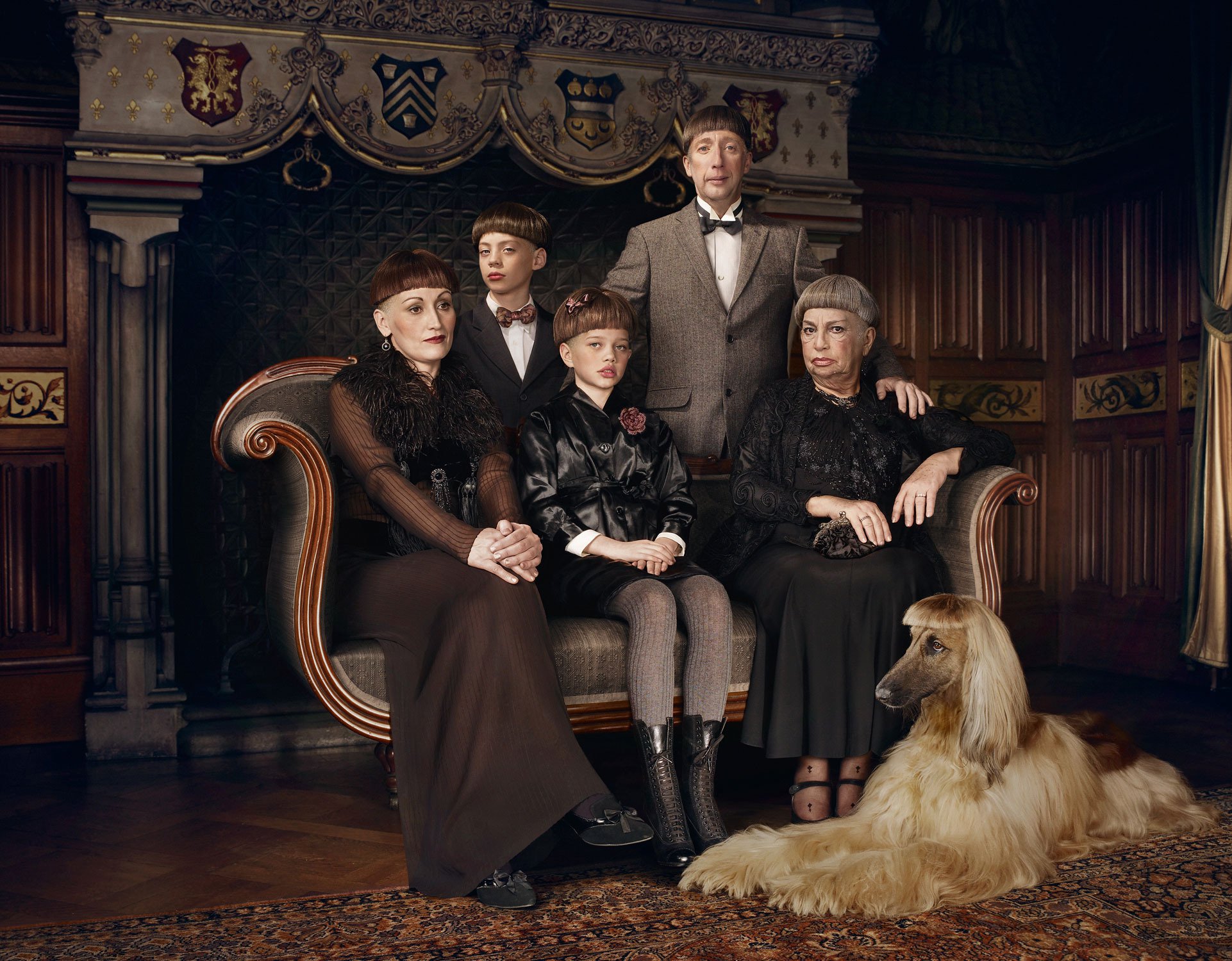 Lietmotif-Familie.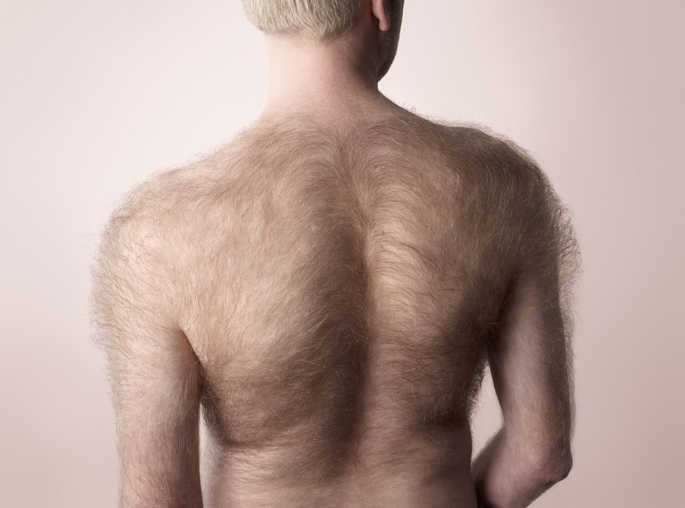 Hair shirt.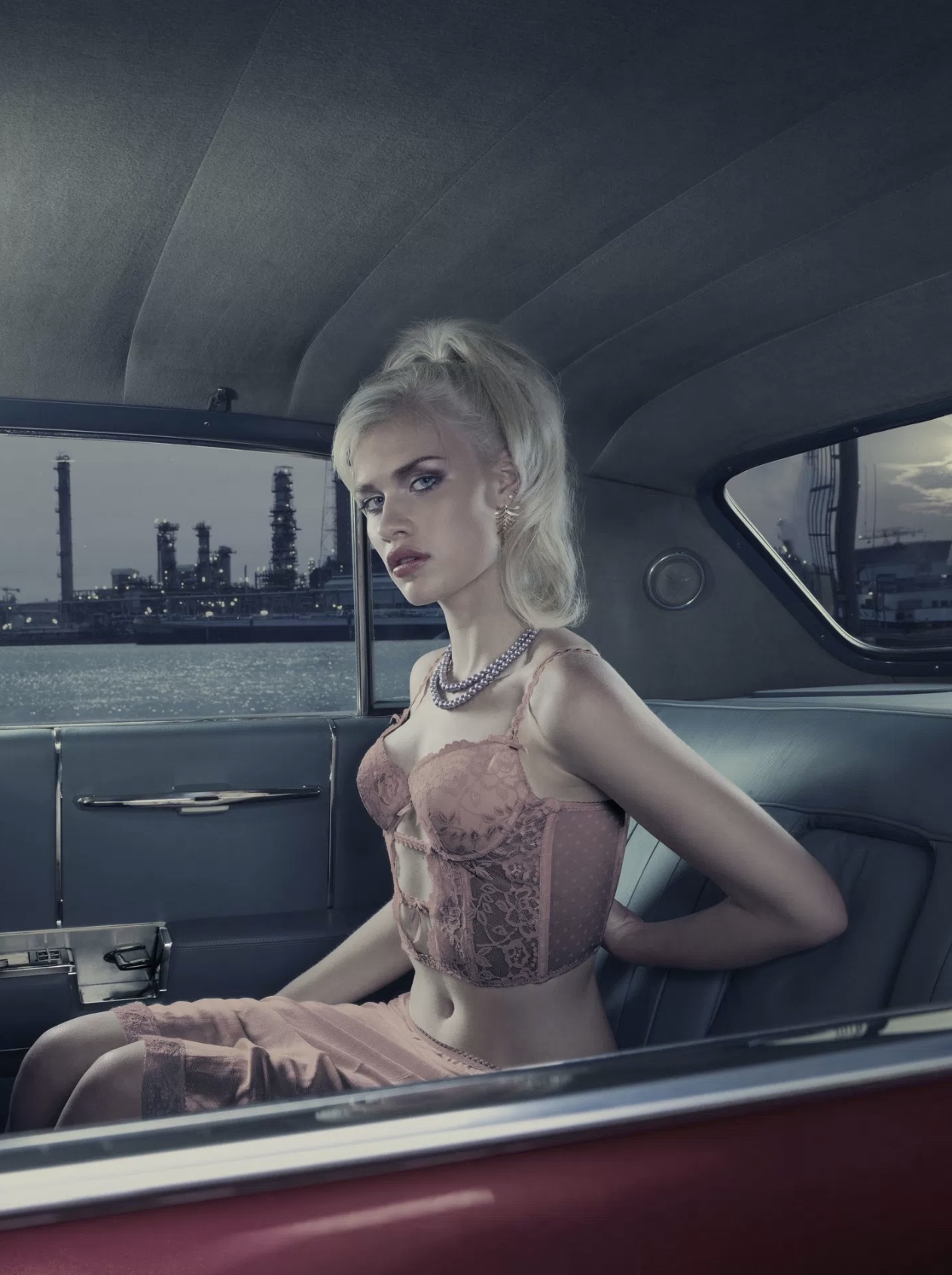 In 'Metal Hurlant' — inspired by the Métal Hurlant ("Howling Metal"), a French science fiction comic magazine (1974-1987) — Janssens brings her perverse elegance to film noir and B-movie tropes.
Pioneer with furry cap.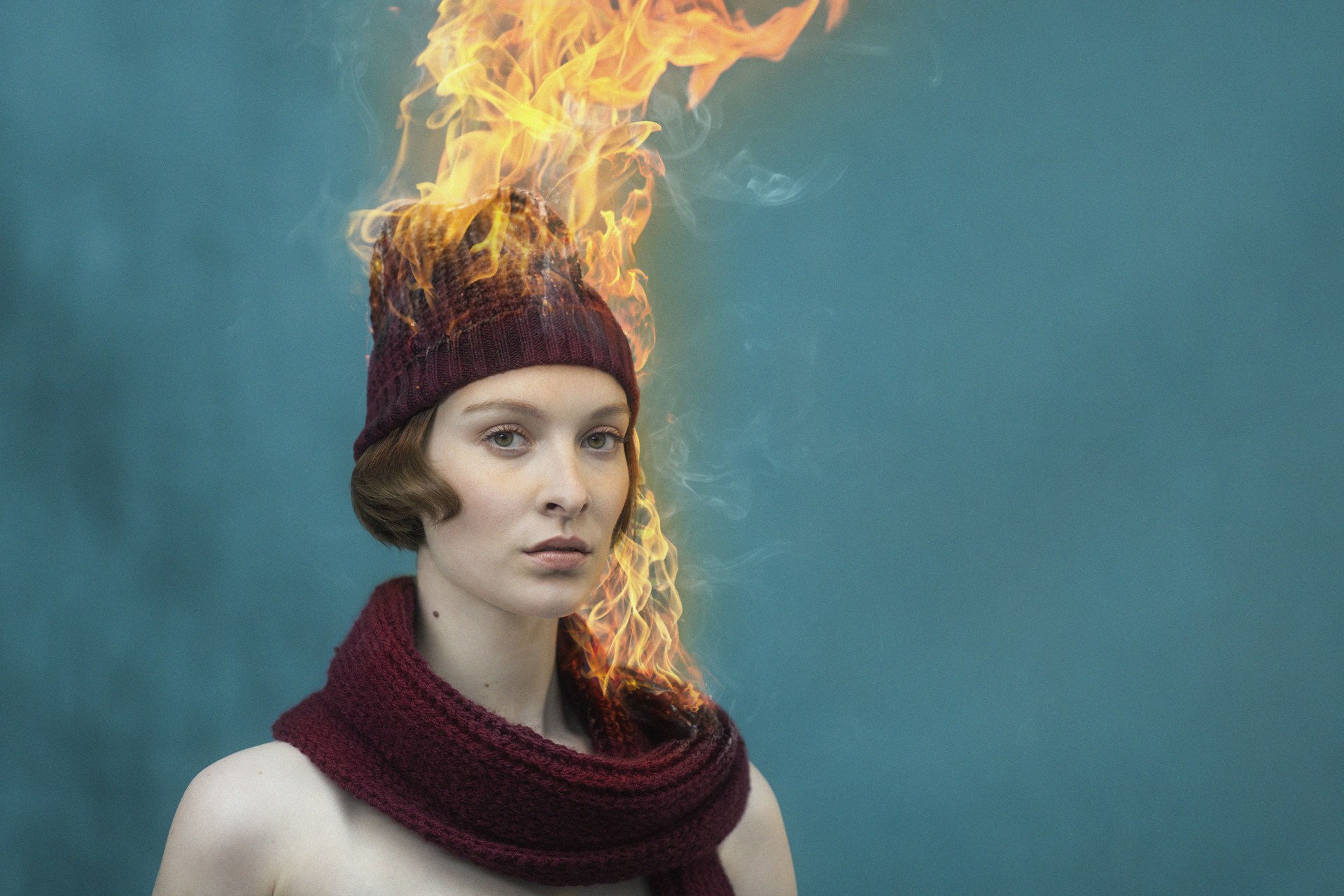 Heated woman.

Frieke Jannsens fills out the Wild Culture Artists' Questionnaire 
1    What is your first memory and what does it tell you about your life at that time and your life at this time?
It's not my first memory, but at the age of 6 I remember myself taking imaginary pictures.
2    Can you name an artist in your field, or other fields, who have influenced you — who come to mind immediately?
Michael Borremans.
3   Where did you grow up, and did that place and your experience of it help form your sense about place and the environment in general?
Bruges, Belgium. Yes, it did.
4   If you were going away on a very long journey and you could only take four books — one art book, one fiction or poetry, one non-fiction, one theory or criticism  — what would they be?
Les vaisseaux du cœur, Benoîte Groult. Just Life, Evgeny Vasiin. The painter, Rinus Van De Velde. 'Tell me how it ends: An essay in forty questions', by Valeria Luiselli.
5   What was your most keen interest between the ages of 10 and 12?
Horses.
6   At what point did you discover your ability with your photographer?
After starting with evening classes in photography at the age of fifteen, I was so excited about it that my mom was tired of hearing me talk about the subject. I skipped the pilot job or police on a horse option because I knew photography was my future.
7   Do you have an 'engine' that drives your artistic practice, and if so, can you comment on it?
My engine starts when I'm happy with an idea, when I'm excited to execute it.
8   If you were to meet a person who seriously wants to do work in your field — someone who admires and resonates with the type of work you do, and they clearly have real talent — and they asked you for some general advice, what would that be?
Believe in your idea, if you're 100% sure, even if nobody else does.
9   Do you have a current question or preoccupation that you could share with us?
No, sorry.
10   What does the term 'wild culture' mean to you?
Not civilized.
11   If you would like to ask yourself a final question, what would it be?
Why do I ask myself so many questions?

FRIEKE JANSSENS was born in Bruges, Belgium in 1980. While studying photography at Sint-Lukas Brussels she was mainly interested in lifestyle, sociology and stereotypes, because she felt like she was living in two worlds. Frieke divides her work between cultural, commerical and personal work. www.frieke.com