A Southern Family's State of Nature
"My former professor told me about Wild Culture," wrote Carl Palmer wrote to us, "that my poetry of where I come from could be a start to others sharing their story." The professor was right about Carl's story, which comes through strongly in his poems and his answers to the Scribbler's Questionnaire. Hopefully they'll inspire others to do the same.
The oldest of six children on Old Mill Road . . .
LIGHTS OUT
 
We never had a volcanic eruption on Old Mill Road.
Tornados, floods and earthquakes hit someplace else.
What we do get are thunderstorms that knock
power out immediately after every first lightning strike.
 
Six kids huddle on the porch watching it pour down,
ordered inside by Mom before getting struck ourselves
find no television, radio, record player or lights other
than the Yankee candle burning on the kitchen table.
 
Sitting in our regular chairs, three boys on one side,
three girls on the other, all looking at the candle glow
while Dad lights the coal oil stove in the living room
for Mom to heat up refrigerator leftovers for supper.
 
Unable to see what is put on our plate, we eagerly
dig in to a squash, okra, turnips, liver and peas,
picked over and whined about at any other meal, 
now hidden in scalloped potatoes and scrambled eggs.
 
Spigots are avoided during lightning storms in fear
a strike could be conducted through pipes to the sink,
another reason to eat everything on our plate because
the girls won't be able to wash the dishes tonight.
 
Not wanting to venture from the candle or each other,
we do knock knocks, riddles, sing songs or tell stories
to not-be-so-quiet Mom will get her rosary to lead us
in Our Fathers, Hail Marys and forever shall it be, Amen.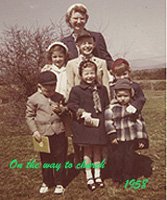 BLIND TRUST    
                                                                       
"Is anything coming?" not even slowing
down for the stop sign at the intersection
of our old gravel road and the highway.
"Nothing on my side," I answer. Knowing
he hadn't looked before asking confirms the
ten year old son's allegiance with his father.
Dad would have never done this with Mom
riding shotgun even if she were to ever ride
in his truck, which I don't think she ever did.
I bet he never got her to light his cigarettes
either or sip foam off his beer cans I opened
from the six pack under my side of the seat.
My best secret was that Friday night hot dog at
the varsity football game. "No need to tell Mom.
We'll just make tomorrow a no meat Saturday."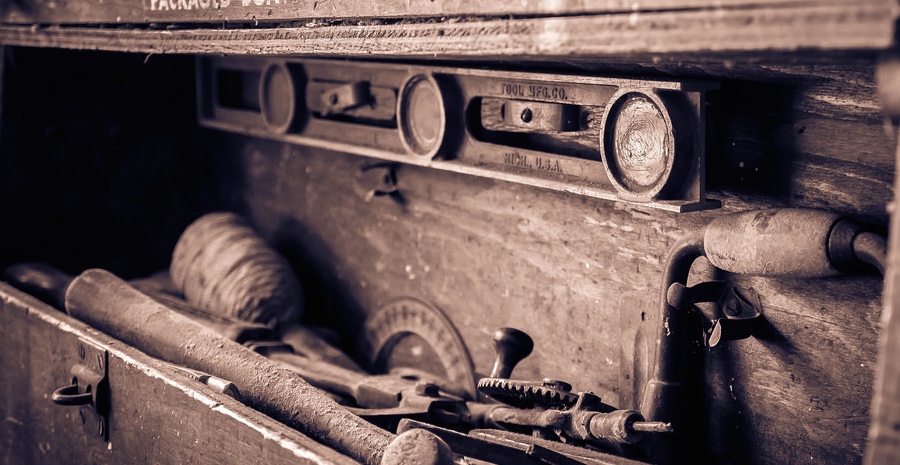 [o]
TOOLS
 
When I'm unable to get the lid off
a jar of dill pickles, Dad hands me
the same bent butter knife he used
earlier to pry open his key ring.
A toolbox tray in his utility room
has a few rusted nails, some wire,
two hacksaw blades, an ink pen,
several sockets and a toothbrush.
There's a pair of vise grip pliers,
three flat tips and a cross point in
his kitchen drawers I'd seen while
searching for a roll of scotch tape.
Dad has tools in the barn, car trunk
and well house he can never find,
that one of us kids must have used
and didn't put back where it belonged.
I arrive to borrow a hammer from my
brother's organized garage filled with
tools for every job to find him scraping
mud from his shoe with a butter knife.
DAD
  
He always seemed to be the same age,
same weight, same clothes, same voice,
same everything at 40, 50, 60 and 70,
however when I see him at 80, he is old.
 
His same blue suit that always fit so fine 
swaddles a smaller frame as he shuffles
down the airport ramp beside Mom, still
her same ageless age, not frail like Dad.
 
New dentures show too white and large
through the thin blue lips of his smile.
Sharp shoulder blades, meatless arms
feel fragile in my welcoming hug.
 
His sunken eyes detect my sudden realization
he has come here to see me for his last time.
Blinking tears, I exhale hard through my nose,
clench my jaw, swallow to steady my voice. 
 
I've got a brown pill for y'all to take tonight,
lightens the mood remembering those tiny
powerful laxatives Mom always dispensed
to flush on-the-road food after every trip.
 
That final visit Dad spoke of friends I never met,
adventures never shared, times before my time,
stories heard in the past. This time I listen closer,
so not to forget a single word. ō

"Our two families cheered when JFK was elected . . ." [o]
Carl 'Papa' Palmer fills out
THE WILD CULTURE SCRIBBLER"S QUESTIONNAIRE
What is your first memory and what does it tell you about your life at that time and your life at this time?
The Palmer family always ate together around the kitchen table; never had a dining room or knew anyone who did on Old Mill Road.
Where did you grow up, and did that place and your experience of it help form your sense about place and the environment in general?
I grew up the oldest of six children on Old Mill Road, a couple miles south of Ridgeway, Virginia. We were sort of wild culture where we lived. Not the feral kind of wild — undomesticated, unrestrained or uncivilized as labeled by Widow Jones, retired English teacher and president of the Baptist Ladies Auxiliary, "those Godforsaken Palmer boys out on Old Mill Road." Rowdy, rugged, spirited and unfettered to an extent, but certainly not barbaric just because we were brought up in the backcountry off a dusty dirt road on a chicken farm where our Daddy raised fighting roosters. As for Godforsaken, we were Catholics in the Bible Belt where the closest church for us was fifteen miles away. Though Dad didn't always go, Mom made sure her six children attended every Sunday. Only two Catholic families in town, us and the Harbours. I remember how our two families cheered when JFK was elected, how the whole country cried when he died. We didn't hear a lot about politics back then, wish we still didn't. Our first meal 'on the town' was in 1959 at Betty Harbour's Grocery, Gas and Grill, on Leaksville Road about a mile from our place. Mom, Dad and us six kids each ate two "2-for-a-quarter-all-the-way" hot dogs including fries and a coke. Grand total, $2.
Can you name a handful of artists in your field, or other fields, who have influenced you — who come to mind immediately?
I make one page of notes, prompts and stolen lines from a new favorite poet every morning featured on three subscribed daily newsletters: Poetry Daily, Verse Daily and Daily Poem. A couple more I enjoy on my laptop are Poetry Soup and Poem Hunter. The most read on my bookshelf: Poet's Companion and Poem, Revisited.
If you were going away on a very long journey and you could only take four books, what would they be?
A double-spaced Bible with room for notes, a Farmer's Almanac, Aesop's Fables and Grimm's Fairy Tales.
What was your most keen interest between the ages of 10 and 12?
1950's television. My mom called it an idiot box, but she allowed some shows after homework — Make Room for Daddy, Lucy, Leave it to Beaver, Bonanza, Ozzie and Harriet. We enjoyed being in familiar circumstances with virtual families, experiencing values and their solutions to similar dilemmas and good examples to apply in our life. Wishing our family was more like these functional families, not dysfunctional like ours. Most fun was following the bouncing ball, singing along with Mitch Miller or watching Mom and Dad sway on the couch to the bubble music of Lawrence Welk.  
At what point did you discover your ability with poetry?
I always enjoyed the 'quiet attention' paid to anyone reciting poetry. Reading my rooster poem, 'Bow Leg', a humorous rhyming ditty my first time at an open mic event got me hooked. I was bolstered by Amelia Haller's comment, "Your voice took us to that place on the farm, made us want to hear more about that place." This was in 2004. Since then I've written many poems from Old Mill Road.
Do you have an 'engine' that drives your artistic practice, and if so, can you comment on it?
Audience is my engine. I direct each story to those I want to hear it. Usually a family member or friend, sometimes poetry about myself as a hospice volunteer: Papa, husband or Dad. Maybe tailor it to an editor's guideline in a call for submission. By getting my poem published I've found folks from all over the world hear my story, understand my story, have lived my story in their neighborhood making the world that much smaller, finding we're not all that different at all. Folks in New Zealand know my grand girl is deathly afraid of spiders.
If you were to meet a person who seriously wants to do work in your field — someone who admires and resonates with the type of work you do, and they clearly have real talent — and they asked you for some general advice, what would that be?
READ, attend readings, workshops, join critique groups, online newsletters and write a daily journal. Filter advice from experts, write what you like, enjoy, don't make it become WORK!
Do you have a current question or preoccupation that you could share with us?
Not a question really, but a few things I'd liked to have done with either of my grandfathers, if they had lived to be a part of my life. Things I'm able to do and have done with my two grand-girls and three grand-boys. Allow the child to be the adult, to lead the way, to take you on an adventure, do a "Papa Project", build something from scratch using real tools and paint. Ask if you may keep the project, show it off and ask him to talk about it.
Take her to a stage play instead of a movie. Get on the floor with him. Say, "I love you" often. Be available.
What does the term 'wild culture' mean to you?
Sitting on my deck, looking up from the book I'm reading or pause my writing on the clipboard, watch two hummingbirds flirt by the feeder, butterflies and bees sharing the rhodies. Return to my reading when another honking 'V' of returning geese easily takes my attention again.
If you would like to ask yourself a final question, what would it be?
How do you want to be remembered, Mr. Carl Palmer?

CARL 'PAPA' PALMER of Old Mill Road in Ridgeway, Virginia, now lives in University Place, Washington. He is retired from the military and Federal Aviation Administration (FAA) and is enjoying life as "Papa" to his grand descendants. He is also a Franciscan Hospice volunteer and former Pushcart Prize and Micro Award nominee.