The Bob Chronicles: 1) Combat Photographer in Vietnam
Standfirst
"Bob Nasmith," as described by director Paul Thompson, "is a theatre warrior and a legend. He wears the story of his life on his body and in his voice..." Until his death in 2019 at the age of 76, Bob was a unique and remarkable human being who never ceased to live as a tireless adventurer. His storytelling is of a truly undomesticated variety and so fits well in these pages. In this three-part series, Bob recounts the events leading up to and during his service in the U.S. Army in the early days of Vietnam. As an actor Bob was awarded a special citation in 2018 from Toronto theatre critics "for his untraditional, decades-long theatre career and his spirit of adventure and enquiry, which he brings to his unforgettable stage work." A memorial event to celebrate his life, Bob's Final Bow, will be held on October 22 at the Theatre Passe Muraille in Toronto. ¶ The interview was recorded on May 7, 2009 and conducted by Whitney Smith.
Body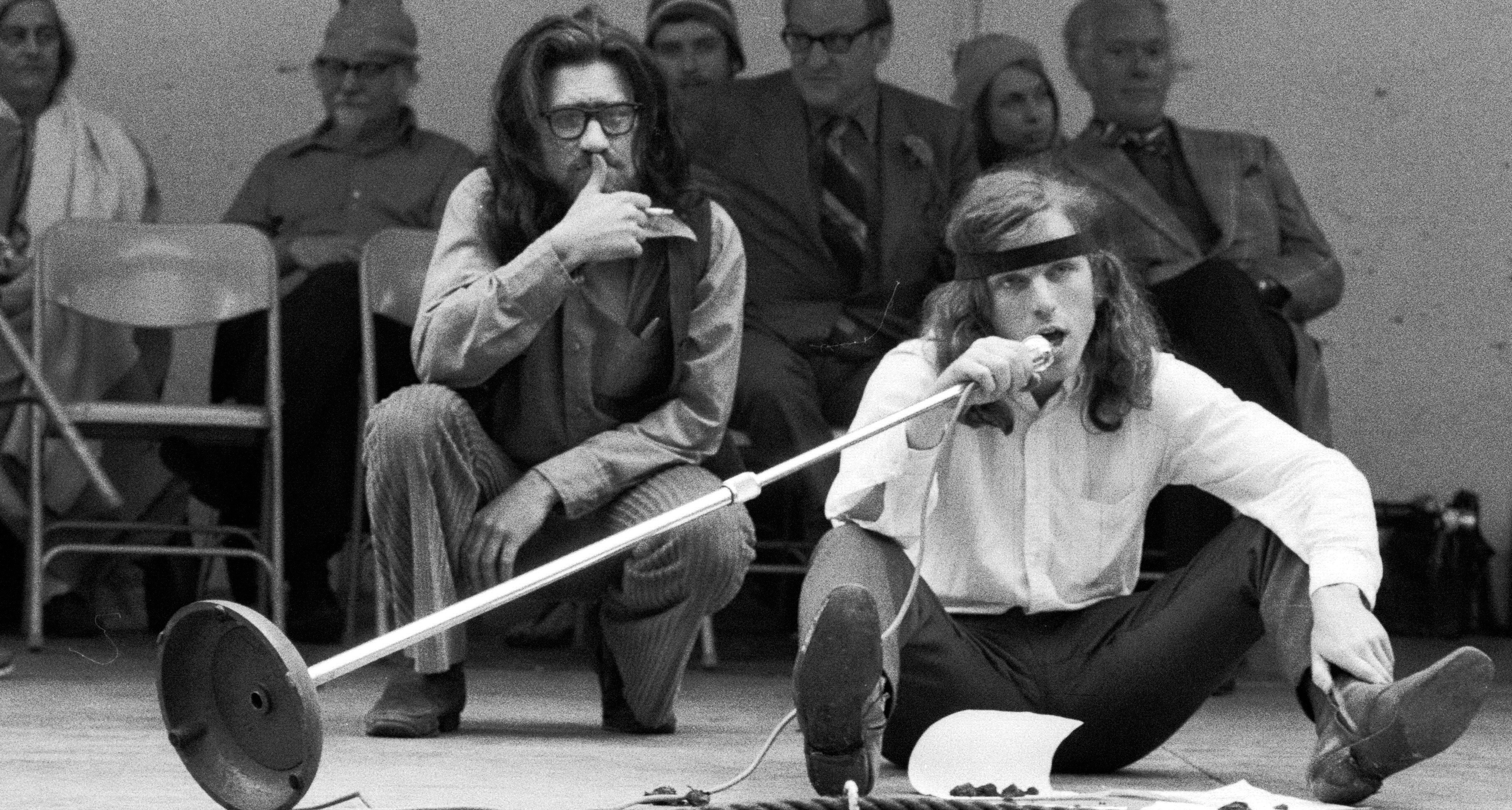 Bob Nasmith (right), backed up by Lionel Douglas, Rochdale College, Toronto, 1971.
WHITNEY SMITH:  Let's start at the beginning. When and where were you born?
BOB NASMITH: I was born in Toronto in 1943 and raised in St. Catherine's. I was adopted. My dad was an automotive engineer and a senior executive with General Motors and my mother was an executive's wife, playing that role with skill, not working but doing charitable work and being on committees.
WHITNEY:  Was being adopted a significant thing for you?
BOB:  Oh, yes! It's obviously significant in many ways, but it was never a surprise or a shock. Even when I was a baby I would pop into bed with my parents and they would tell me stories about how they just found the most perfect little baby in the world and decided that they wanted him for their own. So it was pretty nice.
WHITNEY:  How did you end up in the U.S.?
BOB:  My mother had spent time in California, she had friends there. I was in my late teens and looking for a little bit of adventure, so I went down there on a Green Card. A friend of my mother's, a guy named Bruce Wolpert, had been a childhood friend of my mother's, and he had a quarry down there and a couple of construction companies. He was a graduate of Harvard Business School, before it became so prominent, and was married to the boss's daughter, Betsy, and they had quite a lovely place in Watsonville, California, south of San Francisco near Santa Cruz. So I went down there in the summer to work in his quarry, his limestone quarry on the San Andreas Fault.
When you have a gambling problem, you're always thinking you can get more than you've got, or more than you need.
WHITNEY:  How old were you?
BOB:  Seventeen. Then I came back to St. Catherine's and made a hash out of yet another year of high school. I think I spent three years in grade 11, and then went back down to Watsonville. Bruce had a family friend who owned a beautiful little family hotel on Powell Street in San Francisco, the Chancellor, with the cable cars running by it. I did work there as a bellhop, and lived in a nice little apartment at the corner of Geary and Taylor, across from the Geary Theater, just up the street from the tenderloin, a rough and tumble area. The Morris cafeteria there was the headquarters of the Hells Angels. So there was a lot happening. But I do remember my interest in theater got reinvigorated by going across to the Geary. I had acted professionally in summer stock doing juvenile roles in Ontario, and had done theater in high school. A lovely production of Tea House of the August Moon; I played Zucchini. So it'd kind of always been there with me a bit. So I'd see little theater companies doing things in North Beach, and at the Geary, traveling shows, touring companies, and acts like Beyond the Fringe would come by for high-end stuff.
WHITNEY: So this was 1960, you're 17.
BOB:  Yeah. I was getting a little rough around the edges. I always had a gambling problem, all my life. It's the most amazing thing. And I remember when I was at the Chancellor, Sonny Liston was fighting this guy named Cassius Clay. The Chinese cook and a couple of the other guys were saying, ah well, it's still a fight. And I say, listen, this is crazy, I'll give you 50-1. You want to take Cassius Clay? I'll give you a 50-1. They took it, and they won. You would have thought that I would have learned my final lesson about gambling then, but I didn't.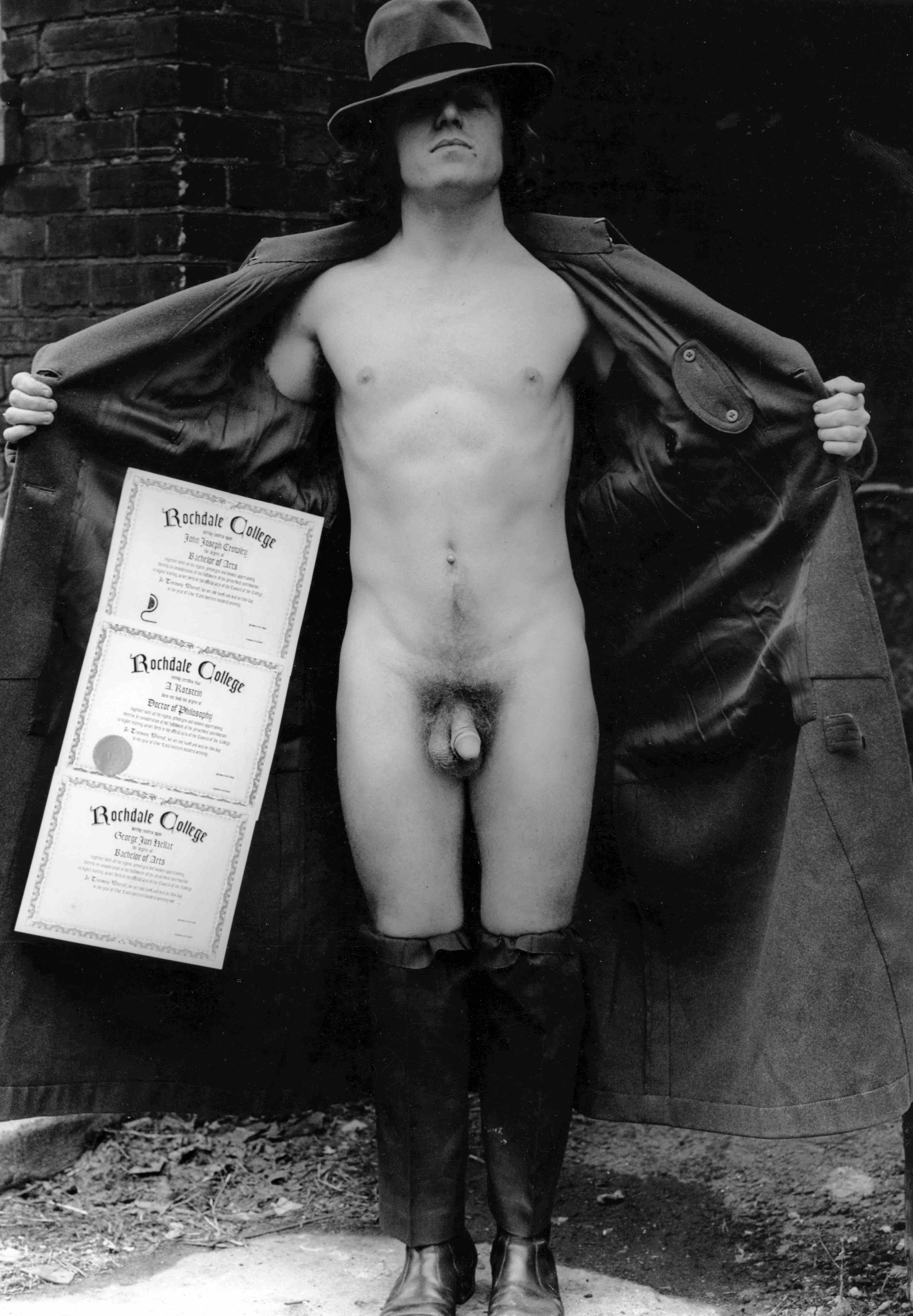 With regularity, a penchant for exposing the natural self . . . Bob Nasmith: Registrar and Dispenser of degrees at Rochdale College, Toronto, 1973.
WHITNEY:  So this period, when you were a bellhop at the Chancellor Hotel, was before you went into the army. What was it in that period that motivated you, as a Canadian, to do that?
BOB:  It was '63, around Kennedy's assassination, and all of that. My mother's marriage had gone to the shit house by that point, so she decided to come to California. While she was looking around to do stuff, she moved in with me into my apartment, and she took a job as a sales clerk in a very, very high-end women's store. She was a real good looking woman and quite personable. She was good at stuff like that. But she hadn't know it because she'd been an executive's wife all of her life and, as I said, executive's wives did not work. But she found that she could do the women's store stuff. She was also a boozer, and I was a boozer too, even at that age. So we probably got to know each other a little too well. So, for Christmas we went down to Bruce Wolpert's in Watsonville, to his very lovely place, and at this dinner I remember she was drinking and for some reason, I, God help me, I really took exception to the fact that she was getting so loaded. And in the company of one of her best and oldest friends. One of my Christmas presents had been a bottle of bourbon. I drank the bottle of bourbon and essentially blacked out. All I can remember is we went to the bus station at Salinas, the closest bus station to go back to San Francisco, and I was so furious I put my mother through a plate glass window at the bus station. Cops came, of course. And Bruce, being quite prominent and quite rich, got a cop to sit up with me all night long in a motel room. Didn't go to jail. The next day he came by, and he says, well, you're really fucked up, I really don't want to have much to do with you. But I'm arranging for you to see this fellow in San Francisco who might be able to help you out.
WHITNEY:  A psychiatrist?
BOB:  Yeah. His name was Douglas Campbell. Oddly enough, a graduate of University of Toronto.
WHITNEY:  There was the booze problem, but also the gambling?
BOB:  Sometimes when you have a gambling problem, you just have a gambling problem. You're always thinking you can get more than you've got, or more than you need. But mostly, it's about the action.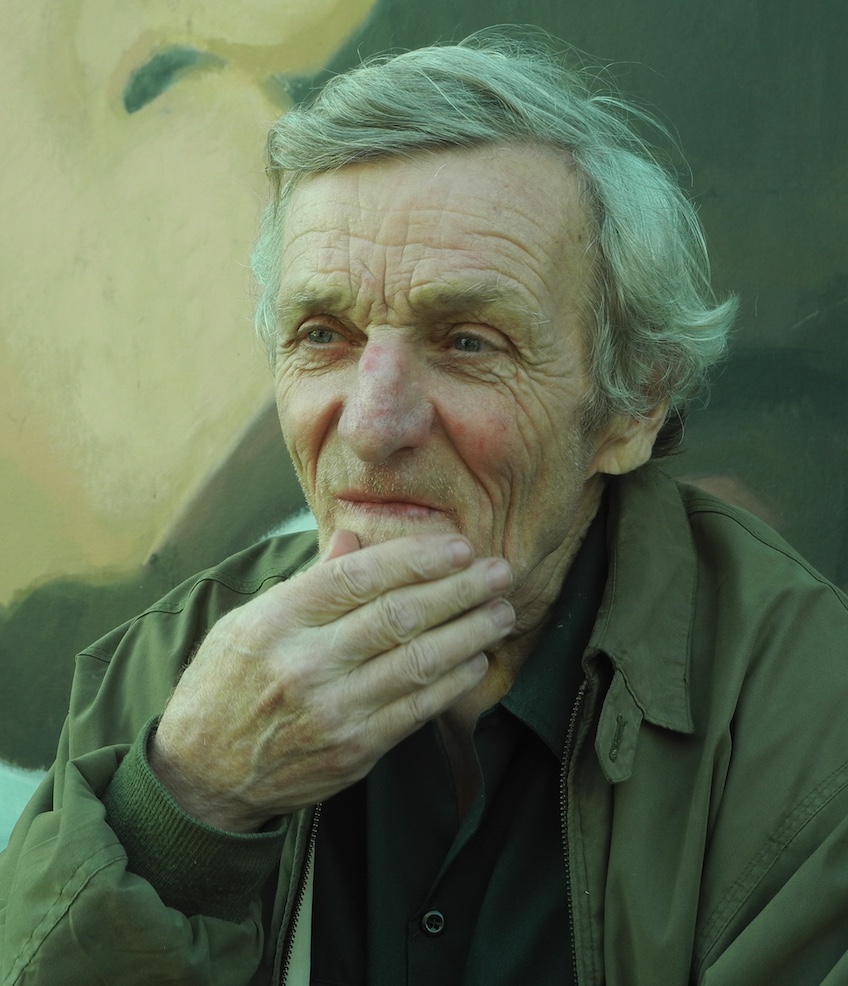 Bob Nasmith. 2015.
WHITNEY: You mean the body mechanics, the gestures and moves associated with the addiction?
BOB:  Yes. I'd do whatever I could find. Extended pinball games, going out and playing pinball machines that paid off if you won, all that kind of stuff.
WHITNEY:  What did the doctor focus on?
BOB:  So what the psychiatrist came up with, good old Campbell, was to take all these tests, the Minnesota Multi Test and all that kind of shit. And by that time, since I was well past 18 and there on a Green Card, I was liable for the draft. I had been moving around a little bit and they were trying to find me, but they couldn't. So Campbell said, maybe you need a little discipline and a little adventure. You might consider the army. So I thought, not much good is happening here, so, well, sure. I'll go into the army.
WHITNEY:  So you just picked up and did it?
BOB:  I did. I went over to my draft board and after that I went over to Oakland, and God, soon, by the end of a particular day, I was in the army. And, kind of typical of me, I volunteered for everything in sight. I wasn't going to duck anything. I went infantry, Fort Ord, California; I went airborne, Fort Benning, Georgia. And since I had volunteered for the draft, I got my choice of assignments. Vietnam at that time was a little bit in the news, mostly small things. I said I'd be interested in taking a look at that. So, there was an airborne unit station in Okinawa called the 173rd airborne, and they sent me there, though I was still in the infantry. Once you get your assignments, they give you IQ tests and all kinds of tests, and mine were through the roof, like, amazingly high scores. So somebody said, what the fuck is this guy doing in the infantry, get him to headquarters company. So they put me in headquarters company, though I would still liaise with infantry battalions, and we got sent to Vietnam. ō
Part II and III of The Bob Chronicles will be available in the next two issues of the Journal of Wild Culture.

WHITNEY SMITH is the Publisher and Editor and founder of the Journal of Wild Culture. As a musician he performed in several productions that featured Bob as an actor.
Comments
Oh, Whitney, this is so good... I saw Bob in Krapp's Last Tape... and to find all this out in your interview is just amazing...thanks!! Brian
Add new comment